We learned today, Monday, Aug. 16, of one new positive case of COVID-19 associated with an individual who had participated in summer programming in the district. All contacts have been notified and advised to follow precautionary quarantine protocols as per the county health department.
This latest case is a reminder that the virus continues to pose a threat, especially for those who are not vaccinated. For that reason, we strongly encourage eligible students 12 years of age and older and staff members to get the COVID-19 vaccination prior to the start of school in September.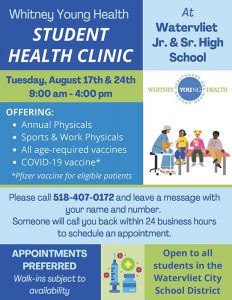 The COVID-19 vaccine will be available for age-eligible students during two upcoming clinics Whitney Young Health is offering for annual physicals, sports physicals and immunizations required for school. The clinics will take place Tuesday, August 17 and Tuesday, August 24 from 9 a.m. to 4 p.m. at Watervliet Jr.-Sr. High School. Parents or guardians who are interested should call Whitney Young Health at 518-407-0172 to schedule an appointment for their child(ren) for physicals and/or mandated immunizations, as well as COVID vaccinations. Staff members interested in a COVID-19 vaccination may also call Whitney Young for an appointment.
Albany County is also offering several community vaccine clinics throughout August. View a list of sites for upcoming vaccination clinics
(This message was shared with the WJSHS families on Aug. 16 via One Call Now email. )