We are updating our requirements for student-athletes interested in playing fall sports based on evolving guidance and recommendations for COVID-19 safety protocols and because currently Albany County is deemed a high transmission area for the virus.
This updated guidance includes vaccination requirements for high-risk sports, as well as electrocardiogram (EKG) requirements for students who have previously tested positive for COVID-19. These requirements are in addition to physicals for student-athletes, which are mandatory before they can begin practices.
As long as Watervliet remains in a high transmission area, the following mitigation measures will be in place for football and volleyball (both identified as "high risk" sports by the health department):
To participate in football or volleyball in fall 2021, students must be vaccinated against COVID-19, if eligible, on or before Sept. 2, 2021.
If students are not eligible to be vaccinated, they must submit to weekly screening testing (rapid testing) with parental consent.
All district student-athletes in grades 7-12 must be vaccinated to participate in a high-risk fall sport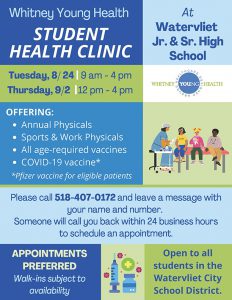 All prospective football and volleyball athletes who are eligible to be vaccinated must receive their first shot on or before Sept. 2, 2021, and commit to completing the vaccine series (if more than one shot is required). Only those who do not qualify for the vaccine will be able to continue in the program past that date if unvaccinated. Weekly screening testing for approved participants who are unvaccinated will be conducted with parental consent.
Whitney Young Health has two clinics scheduled for school/sports physicals and immunizations during which student athletes may receive the COVID-19 vaccine. The next clinic takes place Tuesday, August 24 from 9 a.m. to 4 p.m., and other clinic is on Thursday, Sept. 2 from 12 to 4 p.m. Both clinics are at Watervliet Jr.-Sr. High School. Please call Whitney Young Health at 518-407-0172 to schedule an appointment.
Student football and volleyball players must wear face masks during contests and practices. Mask rules during times of high transmission in these sports is for both indoor and outdoor play.
Mitigation rules put in place by the district will be in effect for all home and away contests (while Watervliet is in a high transmission designation, masks will be required no matter where play takes place).
EKG requirements
Any student athlete who has tested positive for COVID-19 at any point in the past must have proof of a normal electrocardiogram (EKG) to be cleared to participate in fall sports. The EKG can have been performed at any time after the student-athlete recovered from COVID-19.
Proof of a normal EKG also is required to be able to have a district physical for all student-athletes who previously have tested positive for COVID-19. Whitney Young Health can perform EKGs for student athletes in the school-based health center at Watervliet Jr.-Sr. High School, if necessary.
Thank you for your cooperation and support!
(This message was sent to grades 7-12 families via One Call Now email on Aug. 19, 2021)