The WES PTA welcomes you to a new school year and thanks you for your support!
Help our school earn FREE educational supplies and equipment through Tools for Schools!
Earn points every time you shop at Price Chopper/Market 32! Register for the Tools for Schools program and help Watervliet Elementary School receive needed equipment such as school supplies, musical instruments and playground equipment – FREE!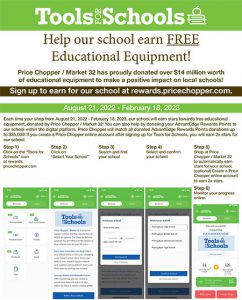 Each time you shop from August 21, 2022 – February 18, 2023, our school will earn stars towards free educational equipment, donated by Price Chopper/ Market 32! You can also help by donating your AdvantEdge Rewards Points to our school within the digital platform. Price Chopper will match all donated AdvantEdge Rewards Points donations up to $35,000! If you create a Price Chopper online account after signing up for Tools for Schools, you will earn 2x stars for our school. Sign up to earn for our school at https://rewards.pricechopper.com/tools-for-schools/signup.
Step 1)
Click on the "Tools for Schools" icon at https://rewards.pricechopper.com/tools-for-schools/signup
Step 2)
Click on "Select Your School"
Step 3)
Search and find your school
Step 4)
Select and confirm your school
Step 5)
Shop at Price Chopper/Market 32 to automatically earn stars for your school.(optional) Create a Price Chopper online account to earn 2x stars.
Step 6)
Monitor your progress online
For more information on how to enroll, visit the Tools for Schools FAQ page. 
School Banking program teaches students about money management
Watervliet Elementary School is one of 70 schools locally that partner with Capital Communications Federal Credit Union (Cap Com) for its school banking program.
Cap Com school banking takes place on Wednesdays at  8:30 a.m., starting in October. Cap Com will donate $10 to the PTA for each new sign up before the end of October. If your child has signed up in the past, they do not need to sign up again.
The Watervliet Elementary School PTA reminds parents that this program is a great hands-on way to teach children about banking and the importance of saving money. The school banking programs offers students the opportunity to bring deposits into school every Friday morning. If you would like more information about how your child can become a Cap Com member and begin saving money, visit Cap Com's website or have your child go to the Main Office for an informational packet.
WES PTA on Facebook
The WES PTA is on Facebook. Find information about upcoming PTA meetings, activities and more. "LIKE" WES PTA ON FACEBOOK
PTA Meetings
PTA Meetings are held each month, September through June, on Tuesday nights at 6:30 p.m. in the cafeteria.
Fundraising
The WES PTA reminds you that we continue to participate in the following programs that benefit the students. If you have any questions about the PTA fundraising opportunities, please contact a PTA Board member.
Box Tops for Education
Please continue to send in your Box Tops labels. Your General Mills Cereal box tops can help out WES, too! All you need to do is cut out the Box Tops and then submit to the PTA. Look for information to be sent home with your child about a grade-level contest for the most Box Tops submitted during a month this year!
Information about Box Tops for Education program
Contact the PTA
We welcome your input and participation, if you would like to contact a PTA Board Member, please e-mail us at: vlietpta@gmail.com.