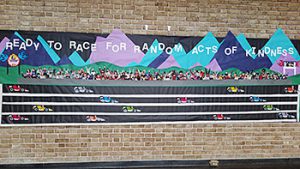 WES students were racing around this week performing random acts of kindness for teachers, their fellow classmates, and family members.
From cleaning their rooms to shoveling snow for parents or neighbors to writing a kind note to teachers or donating clothes and toys ‒ all students revved up their engines and were "Ready to Race for Random Acts of Kindness" ‒ the theme of the school's annual Cabin Fever Day.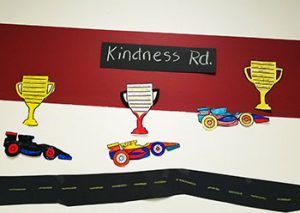 "During a stressful time in our country, a simple random act of kindness can go a long way to brighten someone's day," said second-grade teacher Kim Tallmadge, who helped organize Cabin Fever Day and created the race-track-themed Kindness Matters bulletin board in the school lobby. "We encouraged all our students to participate, and we are proud of all random acts they completed throughout this week."
All students, including remote learners participated. Each student decorated their own race car and noted their random act of kindness on a paper trophy. The customized cars and trophies were then posted on racetracks lining the hallways between classrooms.
Students also had an opportunity to wear their pajamas to school, a Cabin Fever Day tradition.