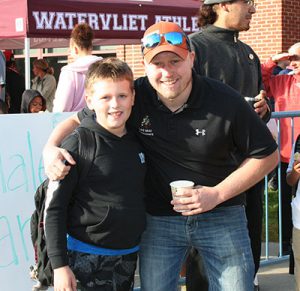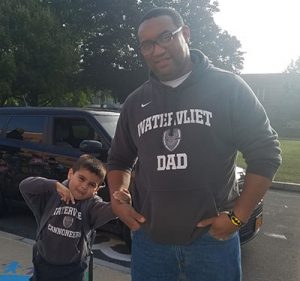 Watervliet Elementary School celebrated Dads Take Your Child to School Day on Tuesday, September 17, a statewide initiative that encourages fathers and male role models to become more involved in their children's education.
Research indicates that children whose fathers take a more active role in their lives have better outcomes academically, behaviorally and socially.
Fathers, stepfathers, grandfathers, uncles, brothers, foster fathers and other male role models who accompanied their children to school today were invited to enjoy coffee and breakfast treats.
"It was great to see so many of our dads bringing their children to school this morning," said Dr. Lori Caplan, Superintendent of Schools. "Many students are in need of positive role models, so we are grateful for the community support at this event."
The Dads Take Your Child to School Day event is designed to highlight the significant impact a child's father or male role models can have in a child's educational experience.
Some tips from the National Responsible Fatherhood Clearinghouse to increase your role in your child's academic life:
Check your child's homework
Join a parent organization at school
Be a chaperone at the next school function or trip
Talk regularly with your child's coaches and teachers
Visit the Fatherhood Clearinghouse website for more information