NEW THIS YEAR!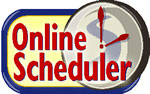 Watervliet Elementary School parents can sign up for upcoming November parent-teacher conferences through an online scheduler beginning Tuesday, Oct. 15 through midnight Tuesday, Oct. 29.
Parents will have the opportunity to access their teachers' calendars and schedule a convenient conference time. If you have not made an appointment by Oct. 29, teachers will pick a time for you and notify you in a take-home note just prior to the conference period.
The parent-teacher conferences will be held on Monday, Nov. 4 from 5:30 to 7:30 p.m. and Tuesday, Nov. 5 from 8:30 a.m. to 3:30 p.m. Sign up for a conference using the online scheduling system (available through Oct. 29).
To access the online scheduling system, parents/guardians will need to enter the school password: cannoneers
(the password is not case sensitive)
Contact Kirsten DeMento  at 518-629-3231, or email kdemento@vlietschools.org, if you have any questions or concerns.