Staff from the Whitney Young School-Based Health Center (SBHC) recently visited Watervliet Elementary School to share important health care tips with students – and the timing couldn't be better with cold and flu season underway.
Kindergarten students received a hands-on reminder about the importance of washing their hands to prevent colds from spreading and remove germs that can cause illnesses. To demonstrate proper hand-washing practices, kindergarten students rubbed fake "germ" lotion on their hands and then placed their hands under an ultra-violet light for a visual understanding of how germs spread. They then went to the classroom sink to wash and dry their hands before returning to the light to see if they had successfully washed away the germs.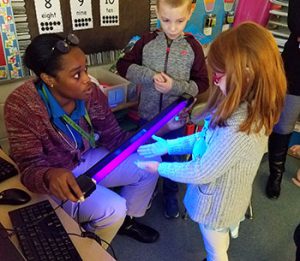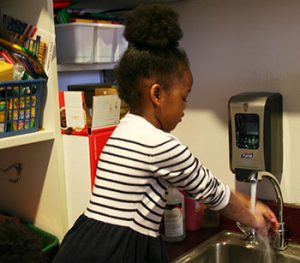 The kindergartners learned that a good rule of thumb is to wash their hands with soap and water for at least 20 seconds, or about as long as it takes to sing the birthday song twice, or their ABCs once, to ensure that hands are germ free.
Meanwhile, fourth-graders learned to make their own toothpaste when the school-based health center's nurse practitioner and assistants reviewed personal hygiene habits, such as showering, brushing teeth and hand washing, and how these relate to good health. The students also received a goodie bag with toothbrushes, handwash, shampoo and other items to take home.