Students got a sweet taste of one of New York's most notable industries when The Maple Experience visited Watervliet Elementary School on a sunny Friday in May.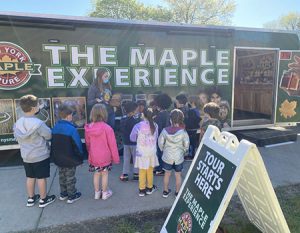 The Maple Experience is an interactive display housed in a 24-foot trailer that shows all the facets of the maple industry. Through this educational experience, students were able to learn about maple syrup production from start to finish. New York ranks second in the nation for maple production, and is home to the largest resource of tappable maple trees within the United States.
Students learned the history of maple syrup and received a first-hand look at how maple sap is collected from maple trees, and how the liquid maple sap is then processed into pure, sweet maple syrup. The presentation ended with a sweet treat – students got to sample the delicious syrup.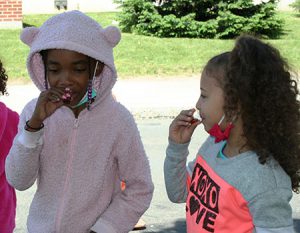 The Maple Experience was made possible by the Capital Region BOCES Shared Food Service program, which received a USDA farm-to-school grant this year that focuses on connecting the cafeteria and the classroom and developing educational experiences, like this, for students.
"Earlier in the year we featured New York maple syrup on our menu and we were looking for ways to educate students on where maple syrup comes from," said Capital Region BOCES nutritionist Claire Groudine. "I had come across The Maple Experience through New York State Maple Producers Association and thought it would be a great learning experience for our students."