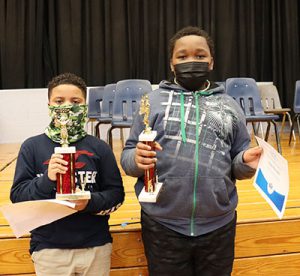 After 18 rounds and just about 135 words later, fifth-grader Jayden Kayembe emerged as the champion of the 2022 Spelling Bee at Watervliet Elementary School. Only he and fellow fifth-grader Malachi Prince were left standing for the final five rounds of the nearly hour-long competition. Following a close back and forth effort between the two top competitors, Malachi missed a word,  giving Jayden the opportunity to capture the win by spelling his next word correctly. He did just that spelling the word "heirloom." Congratulations to Jayden and Malachi on an intense  contest and a job well done!
In total, 25 fourth- and fifth-grade students competed in the school's annual Spelling Bee. Students qualified for the competition by being the top two spellers in their classrooms as determined by their scores on a voluntary spelling test. The spelling bee was streamed to classrooms and was available for families at home to watch on YouTube.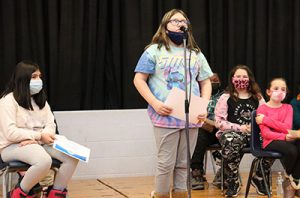 Assistant Principal Michael Foust presided over the bee as the official pronouncer, with Superintendent of Schools Dr. Don Stevens and WES Principal Kelly Webster serving as judges.
We are proud of all spelling bee participants (listed below) and we thank families and friends for their support of the students!
Fourth grade: Valentina Feely, Alexa Teson, Mia Leone, Landon Manney, Frank Jones, Brianna Williams, Meba Berhanu, Usloob Asghar, Ava Heid and Aurora Loeper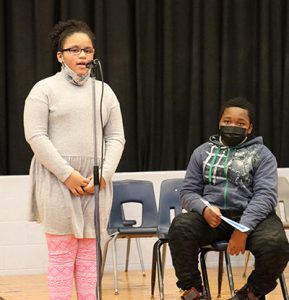 Fifth-grade: Jayden Kayembe , Kaylee Morris, Elnaz Qaderi, Malachi Prince, Malia Prince, Mohammed Al-Jumali, Andrew Hartkern, Josiah Perkins, Jahnessa Lewis, Angelina Robaina, Lillie Mulford, Peyton Marsciell, Melia Cromwell, Sophia Hausman, Ryen Williams