Watervliet Elementary School was one of more than 2,250 schools across the country that celebrated National No One Eats Alone Day on Wednesday, February 13. The initiative, designed to promote inclusion and acceptance in middle schools, reached more than 1 million students in all 50 states.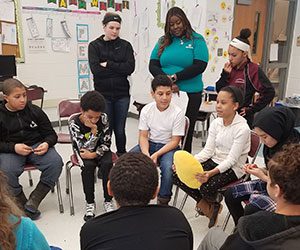 "Providing our students with the right tools to be thoughtful and inclusive is a top priority in Watervliet," said Kelly Webster, elementary school principal. "Our participation in No One Eats Alone Day will help to ensure that our students feel cared about by their peers."
Representatives from Fidelis Care, faculty members from Watervliet Elementary School, and select high school students hosted an assembly in honor of National No One Eats Alone® Day, created by the non-profit Beyond Differences™. Students participated in four workshops designed to teach them about social isolation and the negative impact it can have on a student's health and academic performance.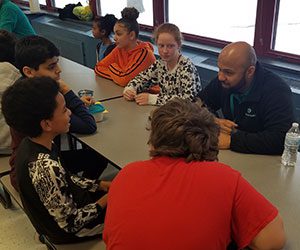 Throughout the day, students learned how to identify social isolation and appropriate actions that can help others feel included. They used these new tools at lunch by choosing to sit with someone they didn't know and finding ways to include someone who may have felt left out. They were given ice breaker topics and were encouraged to discuss shared interests.
"Social isolation is a preventable public health problem," said Laura Talmus, co-founder and executive director of Beyond Differences. "We've learned through teachers and families that No One Eats Alone Day is a powerful step and positive initiative that can change the culture in schools to be a more welcoming place for all."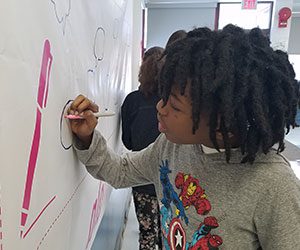 "Fidelis Care is proud to work with the Watervliet City School District to foster a culture where all students feel accepted and valued," said Pam Hassen, Fidelis Care Chief Member Engagement Officer. "Facilitating better health for children and their families is our top priority, and together we can create positive, lasting change."
No One Eats Alone Day is sponsored by the Centene Charitable Foundation.
About Fidelis Care
Fidelis Care is a mission-driven health plan offering quality, affordable coverage for children and adults of all ages and at all stages of life. With more than 1.7 million members Statewide, Fidelis Care believes that all New Yorkers should have access to affordable, quality health insurance.
For more information, call Fidelis Care at 1-888-FIDELIS (1-888-343-3547) or visit www.fideliscare.org.