Watervliet ninth graders joined their peers from the Cohoes, Lansingburgh and Waterford-Halfmoon school districts on Monday, Oct. 28 for an inspirational message shared by acclaimed educator and best-selling author Erin Gruwell.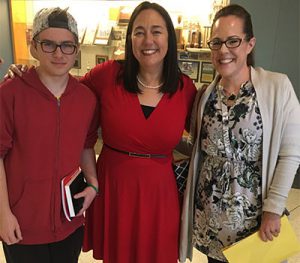 Her journey as an educator began in the mid-1990s when Ms. Gruwell taught English to 150 at-risk students at Woodrow Wilson High School in Long Beach, CA. Through her engaging teaching strategies, 100% of Ms. Gruwell's students graduated from high school and many exceeded expectations by pursuing higher education and advanced degrees.
Her recipe for success involved engaging and empowering her students through journal writing. The raw emotion and honesty of her students' journals were published in a book called The Freedom Writers Diary, which instantly climbed the New York Times Bestseller list.
"I want them [students] to know that change is inevitable if they choose it. That they can write different stories for themselves. That school and education is the best way to challenge inequality and injustice," she said.
Her book served as the basis for the 2007 movie Freedom Writers, which starred Hilary Swank, as well as the recently released PBS documentary Freedom Writers: Stories from the Heart.
Ms. Gruwell founded the Freedom Writers Foundation to help other educators replicate the success she had with her students. The mission of the Freedom Writers Foundation is to advocate for all students and teachers by providing tools that facilitate student-centered learning, improve overall academic performance, and increase teacher retention.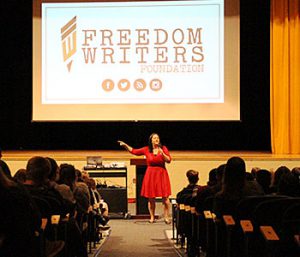 During her visit to Cohoes High School, the New York Times bestselling author spoke about the unique teaching method that enabled her students to use writing as a pathway to communicate their personal stories and change the course of their lives, which resonated with Assistant Superintendent Donald Stevens.
"Students heard firsthand how the power of the pen can create inspiration, hope and success," said Mr. Stevens. "We thank Ms. Gruwell for her honesty and compassion, and look forward to our students creating their own diaries based on their life stories."
Cohoes High School will host a Q&A with Ms. Gruwell at 6 p.m. Monday. The event is free and open to the public, and features a screening of the Freedom Writers PBS documentary. Thanks to event sponsor Utica National Insurance Group.