Students recognized for effort, dedication to academic excellence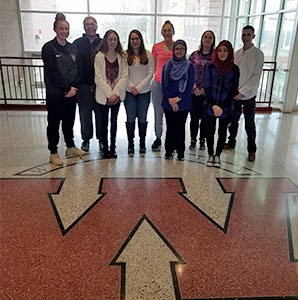 The entire Watervliet City School District administration, faculty and staff applaud this year's top scholars for their efforts and achievements.
School leaders congratulate the students who have earned a spot in the Top 10 of the Class of 2018 for maintaining the highest GPAs over their four years in high school: valedictorian Bethany Livsey, salutatorian Meghan Murray, Maria Baughn, Patrick Ethier, Sheila Caminiti, Angela Keefer, Haadia Faheem, Hosnieh Nazari, Alexis Wilson and Parisa Nori (missing from photo).
"I congratulate our top 10 students on their academic success and personal achievements," said Principal Ryan Groat. "They have remained committed throughout their high school careers to doing their individual best. I wish them continued success as they continue their education and pursue their dreams in the next chapter of their lives. They make all of Watervliet proud!"
How did these high-achieving students reach the top of their class? Click on their individual pictures below to learn what they consider the "secret sauce" for success in high school, find out their future plans and more.
Watervliet High School's Top 10 scholars and the entire the Class of 2018 will receive their diplomas at the commencement ceremony on Thursday, June 21 at 6:30 p.m