Kelly Webster selected as new elementary principal
During its meeting on Dec. 13, the Board of Education appointed Kelly Webster to the position of principal at Watervliet Elementary School, effective Jan. 2, 2019.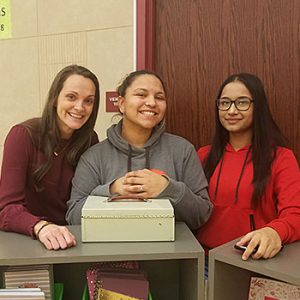 Mrs. Webster is the current assistant principal at Watervliet Jr./Sr. High School, but is a familiar face at the elementary school, having taught fourth grade for eight years prior to becoming a certified school building leader.
She looks forward to stepping into her new role at the elementary school, and is excited to again work with young learners.
"I do miss working with the younger students; although, the older students will always have a special place in my heart," said Mrs. Webster. "I look forward to seeing all the familiar faces, but am equally excited about meeting new students and staff. I loved WES and it was very emotional when I left. This feels almost as if I'm returning home."
Superintendent of Schools Dr. Lori Caplan expressed confidence in Mrs. Webster's ability to transition to the leadership position. "I am more than confident that Mrs. Webster is ready to take on the responsibility of being elementary principal," she said. "I have watched her leadership skills develop during the past two years. She has a unique ability to make strong connections with both students and staff, and is fully committed to supporting the district's mission. I will be excited to see her continue to move the elementary school forward in a positive direction."
Mrs. Webster is grateful for the experience working with grades 7-12 students during the past two years, and said she has grown as a leader thanks to the opportunity to collaborate with the junior-senior high school staff and administration.
"Being an effective school leader is hard work, however, with the guidance of Mr. Groat and Mr. Foust, and the support of all the wonderful teachers and staff here, I learned how to balance the workload and ensure that all stakeholders are not only involved, but appreciated," she said.
Mrs. Webster recognizes the dedication of Watervliet teachers and staff as one of the district's biggest strengths. "Our teachers and staff are 100 percent committed to the students and to the community," she said. "They work hard to provide a nurturing environment and rigorous academics to help prepare our students for life beyond these four walls."
As an educator and school leader, she is also aware of the challenges that schools face. "Education is ever-evolving. We have our work cut out for us as we begin to roll out more of the Next Generation Learning Standards and develop curriculum," Mrs. Webster explained. "We have the supports in place, however, to help guide us in this initiative. The administrative team is committed to building effective programs and improving our students experience at school."
As the assistant principal at WJSHS, Mrs. Webster was responsible for teacher observations and evaluations, was instrumental in developing and coordinating a new mentoring program for students, and served as an adviser for the Character Education/No Place for Hate program.
Maintaining a positive school climate will continue to be a top priority for her as the new elementary principal, she said. "In doing that, I will build a partnership with the parents and the community, and together with the teachers and staff, we will continue to promote a nurturing environment, where everyone feels valued. I mean, who doesn't appreciate being appreciated?"
The new elementary principal plans to lead by example, which to her means being respectful, keeping the lines of communications open and collaborating.
"Just as if we were in a classroom, it is important in all aspects of life, to show respect if you want it in return," she said. "I recognize that I cannot not lead this building alone. I have always said and stand by the notion that it takes a village. I hope to collaborate with parents, teachers, students and the community to ensure that we inspire, challenge and educate every student, every day."
For now, her main message for elementary families, and especially students, is that they are cared for each day. "When I send my own children off to school in the morning, I am confident that their social, emotional, and academic needs are being met. It is no different in this case," she shared. "Parents have my word that together with the amazing faculty and staff at WES, their child(ren) will be loved and cared for."
"I also understand the importance of communication and recognize it is a two-way street," she added. "That includes being a good listener, and being as transparent as I can be."
Mrs. Webster takes over for Loida Lewinter, who has served as elementary principal since 2016, and resigned from the position to spend more time raising her family.