Student musicians prepare for first performance in nearly two years
Written by Ella Bendon and Megan Polaro, WHS seniors and CEIP communication interns; Photos by Ella Bendon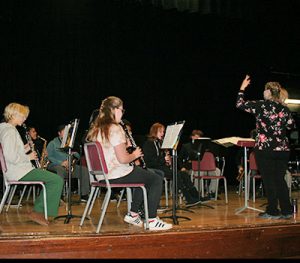 On Wednesday, December 8, the Watervliet band and chorus will perform their first concert since the return to in-person learning. The staff and community are thrilled to have the students back on stage again! The Winter Concert begins at 6:30 p.m.  Spectators who are unable to attend in person may view the concert via live stream.
Editor's note: The Live Stream link for the Winter Concert will be available on Wednesday, December 8 at 6:30 p.m. Virtual audience members are invited to join between 6 p.m. and 6:20 p.m. Watch the concert via livestream
While most students expressed their excitement to be back on stage after so long, some have conflicting feelings. One student who wished to remain anonymous said, "I haven't played in front of a crowd in about two years now. It's slightly nerve wracking." However, despite some students' hesitancy towards being back on stage again, the new band director sees it from a different point of view. Ms. Boyer conveyed her excitement for the night, stating that it will be nice to share music with the community, especially during the holidays, after not being able to for so long.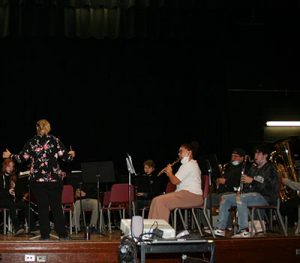 When asked for her thoughts on the difficulties that the pandemic has presented, she said, "You have to adapt and change and make things work to the best of your ability." In the band room and onstage, for example, students must use protective gear while playing, like bell covers, flute shields, and masks for students who play percussion.
Ms. Boyer feels that the night will be a sort of "homecoming concert for the musicians in this school." Due to COVID-19 health guidelines and restrictions, the in-person audience will be limited to two guests per student, and each audience member must be masked and have proof of vaccination to attend. However, like most of us, she is very grateful that rehearsals and performances are back in person. "Some students belong on the stage and it's great to have them back doing what they do best."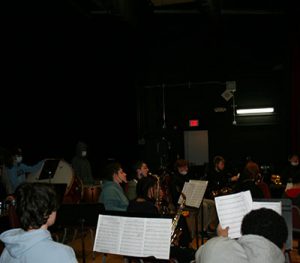 According to Mrs. Dorn, chorus director, "It's very exciting, but also nerve-racking! We didn't sing or play instruments in a group setting for a year and a half, so we had a lot of work to do, and in many ways we were starting all over again from scratch. Concerts are a wonderful way for us to share our hard work with the community, and we're glad to be able to do that again."
Unfortunately, both the Garnet and Grey bands have less students to participate. This year, the chorus is made up of almost an entirely new group of students who have never taken chorus before. But make sure to stick around for the final number of the concert where they will end with a special event!
Once again, the concert is Wednesday, December 8, in the high school auditorium. We look forward to seeing the hard work of our student musicians pay off, and can't wait to finally hear them again!