Student learns that certain career path may not be a match
Written by Megan Polaro, WHS Senior and CEIP Communications Intern
The Career Exploration Internship Program (CEIP) class not only allows seniors to discover and explore possible career paths, it also gives them the opportunity to narrow down their options.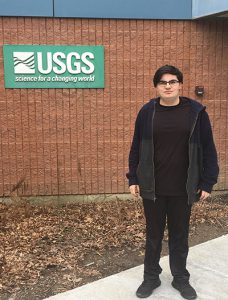 For Matthew Martini, the CEIP experience has provided insight into a specific career path and the knowledge that it may not be the best fit. Matthew is currently an intern for the United States Geological Survey. He attends the internship for three hours every week. During his time there, he is tasked with sifting through samples of dirt and chemically determining the quality.
Although Matthew chose this internship because of his love for nature, he wishes that "his love for nature can remain as fun as a hobby and not feel like a job." The internship allowed him to see the reality of this career.
Matthew shares this advice to future students who may wish to pursue this career: "If you want to get a job in this field, you also need a love for science as well as nature. You would need to do chemistry and advanced math every single day."
The CEIP class gave Matthew the chance to see the daily experience of working in this job. Because of the internship, he is now able to reevaluate his future career decisions.