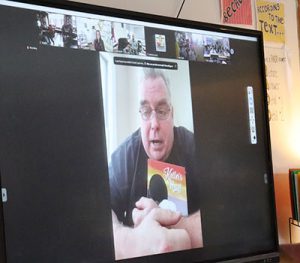 WTEN news anchor and author John Gray visited virtually with WES students recently to read his book, Keller's Heart, as part of the school's Read Across America Week celebration. The story is about two friends — a young girl named Raven who is deaf and a dog that is deaf and blind. After Raven's family adopts Keller from a local shelter, the two teach everyone that it is OK to be different and that we are all special in our own unique ways.
Mr. Gray is the author of six books, three of which are children's stories. Keller's Heart is based on Keller, a deaf and blind dog that Mr. Gray and his wife adopted from the Mohawk Hudson Humane Society after the dog was found abandoned by the railroad tracks. He shared with students that the book's title, Keller's Heart, reflects a brown patch shaped just like a heart in the dog's fur. He went onto say that having Keller as part of his family taught him lasting lessons. After Keller's death, Mr. Gray adopted two other dogs with special needs to be part of his family.
Students had an opportunity to ask Mr. Gray questions when he finished reading. They asked about Keller and the other dogs, about his job as a news anchor, and about his books.