Donna Belokopitsky recognized for 40 years of service to students and schools
When a staff member dedicates most of their adult life supporting students and schools, it's safe to say they are more than deserving of being called a Friend of Education. Her approximately 40 years of service makes Donna Belokopitsky a BFF to Watervliet schools!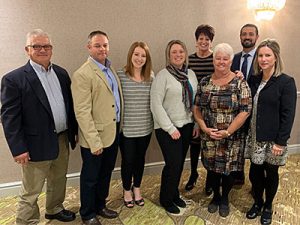 Mrs. Bel, as she is known in the schools, was recently named a "Friend of Education" by the Capital Area School Development Association (CASDA) during the annual awards dinner in November. CASDA's Friends of Education Award honors school community members for their commitment to enriching the lives of students and acknowledges their dedicated service to their schools.
Although Mrs. Bel officially retired from the district 10 years ago – she never quite left her beloved schools. In the years since retirement, she has spent nearly every morning manning the phones at Watervliet Jr.-Sr. High School, where she served as the secretary to the assistant principal for 30 years. Mrs. Bel continues to be one of the first to arrive at school each day, fielding before-hours calls and answering parents' questions, while keeping an eye on her cell phone for text messages from teachers and staff members who are running late, or who will be absent due to a sick child or an unanticipated illness.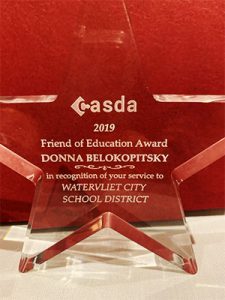 Mrs. Bel coordinates substitutes to make sure all teacher absences are covered. What if a position is left unfilled? No problem: Mrs. Bel has been known to step in and serve as a teaching assistant, help out in the in-school suspension classroom, or act as hall monitor when needed.
In nominating Mrs. Bel for the award, Superintendent of Schools Dr. Lori Caplan wrote: "Whether she's coordinating with maintenance staff, answering early morning phone calls, or running breakfast to the bus to make sure our CTE students are fed during the ride to their programs, Donna does it all with a smile. You can see her chaperoning athletic events, laundering students' clothing, and donating gifts to underprivileged children and families during the holidays. Watervliet alumni often return to the district just to see Donna and thank her for all she has done."
"Donna was my very first friend when I came to the Watervliet City School District in 2005, now she is my family," Dr. Caplan said. "On behalf of our students, teachers, staff, administrators and community members, it is an honor to recognize Donna for all that she does for every student every day."
Mrs. Bel's family, including both her children who are graduates of the Watervliet City School District, joined her for the CASDA awards dinner. Mrs. Bel's service ethic has clearly been an influence on family members, two of whom are now educators in the Watervliet schools. Her daughter, Rachel, teaches in the elementary school; while her niece, Chelsie, is a guidance counselor at the junior-senior high school.
Mrs. Bel was among 10 recipients from around the Capital Region to be honored with a Friends of Education award this year. Congratulations Mrs. Bel!