Post and photos by Ella Bendon, WHS senior and CEIP communications intern (and Masterminds team member)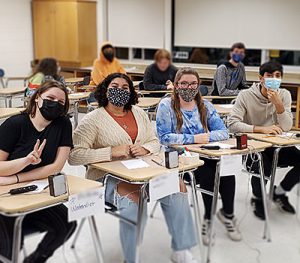 Congratulations to the Watervliet Masterminds Club on winning their first match last Tuesday at Niskayuna!
Masterminds is a school-sanctioned club where students compete in trivia games against other schools. Masterminds a great opportunity for students to interact with other schools and work with teammates using intellect, critical thinking, and collaboration. The club also looks great on college applications.
The team beat Waterford with an impressive score of 120-25. The team also played Duanesburg but lost by just ten points with a score of 120-110. The team is currently in third place in the league with 230 points, behind LaSalle, which has 375 points, and Niskayuna, standing at 625 points.
Matches take place once a month, at a different school each month. We are excited to see how the team will do in December at their next match and we'll look out for their future successes!