Post and photos by Megan Polaro, WHS senior and CEIP communications intern
Cooking Club is the perfect fit for students who are hungry to learn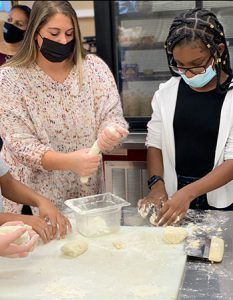 This year the Watervliet Jr.-Sr. High has added another club to its roster of extracurricular opportunities. The new Cooking Club, led by food service director Mr. Tuskey and high school English teacher Mrs. Haluska, gives students the chance to learn fun recipes and have hands-on cooking experience!
The club meets after school every Tuesday and Thursday in the cafeteria. Due to the large number of participants, the club had to be separated into two groups, and many students were waitlisted. The students alternate between baking and culinary recipes.
On Tuesday, November 16, I had the pleasure of participating in the club with 6th and 7th grade students. They took special precautions to follow health guidelines and stay safe in the kitchen. We made bagels from scratch.
Mrs. Haluska shared the original recipe below (serves four, can be doubled):
Easy Bagel Recipe
INGREDIENTS
1 cup all purpose, gluten or whole wheat flour
1 cup plain Greek yogurt
2 teaspoons baking powder
½ teaspoon salt
1 egg white or whole egg
Optional toppings – Everything but the bagel seasoning, sesame seeds, cinnamon, blueberries, raisins, poppy seeds, etc.
INSTRUCTIONS
Preheat the oven to 375 degrees
In a medium bowl combine the flour, baking powder and salt. Slowly add yogurt until well combined.
Knead the dough until tacky.
Divide into four equal balls. Roll each ball and poke a hole in the center. Gently stretch it out.
Top with egg wash and the optional toppings.
Put parchment paper on the baking pan and place your bagels on top.
Bake for 25-30 minutes.
Enjoy plain or with butter, cream cheese, peanut butter or another favorite topping!