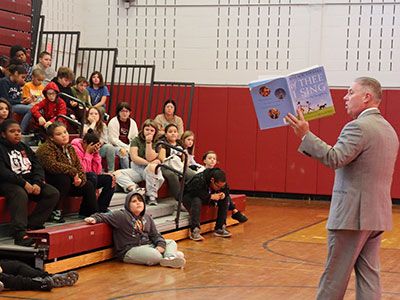 New York State Assemblymember John McDonald stopped by Watervliet Elementary School to read to fifth-grade students in what has become an annual tradition. The state assembly member represents the 108th district, which includes the City of Watervliet, his hometown of Cohoes, and a number of other neighboring communities. He has read the book "of Thee I Sing," to grade 5 classes each year around this time for the past several years.
The book, written by President Barack Obama in 2010 for his two children, features a number of famous Americans – from artists and athletes to historical figures and musicians – and the groundbreaking roles each has played in shaping our country.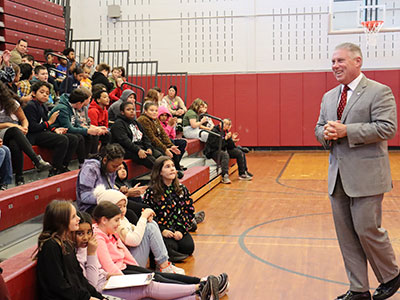 After reading the book, Assemblymember McDonald fielded questions from fifth-grade students, which included the following:
Q. Do you pick what you wear every day or do people tell you what to wear?
A. That's an interesting question. I choose what to wear; mostly suits, but sometimes more casual clothes.
Q. When you were a kid, what did you want to be when you grew up?
A. A baseball player.
Q. Who is the most famous person you have ever met?
A. President Barack Obama.
Q. Where is the coolest place you have traveled?
A. Hawaii.
Q. Do you ever get stage fright?
A. Yes, when I was first running for mayor of Cohoes and was giving speeches. But I have learned two things that help: 1. Don't speak about topics you don't know anything about; and 2. It's OK if you forget a part of your speech. Just keep going. No one but you will know.