Ninth-grade students visit local businesses and state agencies to learn about careers
March was a busy month as ninth graders in the the Pivot program completed several job shadow experiences to learn about different careers. 
In early March, Pivot students had a great time meeting the staff at Linium Recruiting in Albany, where they had an opportunity to learn more about the human resources and recruiting business, the outlook for the local job market, and tips for how to be successful in a job search.
Students toured the National Grid facilities in mid-March where they learned about the jobs needed to supply the Capital Region with power.
Recently, grade 9 students participated in a job shadow with New York State Office of General Services (OGS). Students spent time with OGS staff learning about their day-to-day responsibilities and operations.
They first toured the chill plant, which is responsible for cooling and heating all the buildings and state agencies within the Empire State Plaza, where they learned the significance of how lack of heating and cooling would cause major issues within state operations.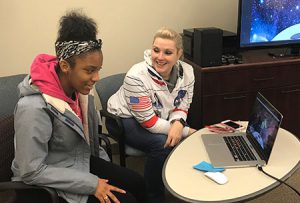 Students then toured the media center and were able to use the equipment to create a public service announcement (PSA) like those created by and for state agencies, including the Department of Motor Vehicles, the Department of Health, and others.
Lastly, they toured the State Capitol and learned about the roles of the Assembly and the Senate.
If you have any questions about or suggestions for local job shadows or guest speakers, please reach out to the Pivot counselor, email below:
Mrs. Choi, School Counselor cchoi@vlietschools.org