Congratulations to Donald Stevens on being named assistant superintendent of the Watervliet City School District. At its meeting in June, the Board of Education voted in support of the recommendation to elevate Mr. Stevens to this new role from his position as director of curriculum, instruction and professional development. Effective July 1, he becomes the first educator to serve in this role in the district's history.
"Don has taken the lead role in the comprehensive curriculum work that is occurring in the district to prepare for the full implementation of the Next Generation Learning Standards, which is just one of many strategic goals and initiatives currently underway," said Superintendent of Schools Dr. Lori Caplan. "The Board was supportive of this new position because it recognizes the growing needs of our students, as well as the increasing challenges our educators face."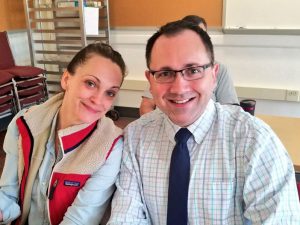 Mr. Stevens previously served as the director of literacy and universal prekindergarten before moving into the role of director of curriculum last year. For 10 years prior to that, he taught sixth-grade at Watervliet Elementary School.
As assistant superintendent, he will continue to oversee curriculum and instruction in the district, including the development, implementation, coordination and evaluation of academic programs, professional development to meet the needs of teachers and staff, and take on additional leadership responsibilities as assigned by the superintendent.
"I am proud and honored to serve the students and families of the Watervliet schools and look forward to collaborating with Dr. Caplan, school leaders, administrators, teachers and staff to provide more opportunities for students, challenge them and support their success," Mr. Stevens said.
Mr. Stevens earned his Bachelor's Degree in Childhood Education with an extension in middle school education, then pursued a Master's Degree in Curriculum and Instruction and his Certificate of Advanced Study in Educational Administration from The College of Saint Rose in Albany.