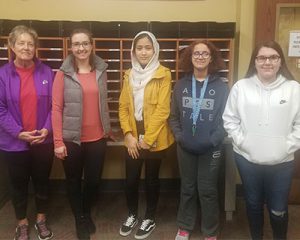 Three Watervliet High School students from Christa Farruggio's English class were selected the top three finalists in the 2019 Amercanism essay contest sponsored locally by the Watervliet Elks Lodge #1500.
Congratulations to tenth-graders Chance Fosmire, Shyann Hughes and Roya Rezaie who penned essays of 300 words or less based on this year's theme: "What Does Freedom of Speech Mean to Me?" The Elks USA organization sponsors an American essay contest each year across the country to encourage patriotism among young people.
Representatives from the Watervliet Elks presented prizes to the students in early February with the top prize awarded to Chance Fosmire. In her essay, Chance expressed that freedom of speech means more than just the legal definition found in the dictionary: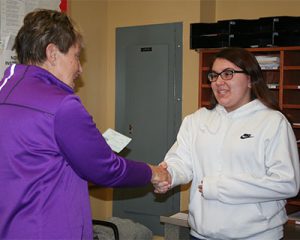 "Freedom of speech in the dictionary means 'the right to express any opinions without censorship or restraint' but it's way more than that; it's feeling heard and understood so that your opinion is expressed."
She continued: "Freedom of speech to me means freedom to be yourself and say what you want to be heard. Without being judged, harmed or shamed. It's the right to speak your mind when you feel it should be spoken."
Shyann Hughes earned second prize with her essay in which she wrote about the responsibility that goes with having freedom of speech:
"Freedom of speech means believing what you want and not letting other people get in the way of your thinking. You are able to say what you want to say, but you shouldn't say anything you don't mean or anything without reason because that could cause conflict between you and someone else … In school you have freedom of speech in many ways, but it has to be appropriate and said within reason."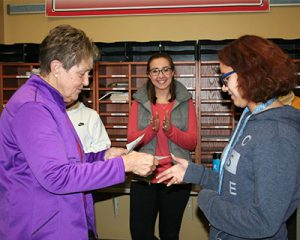 She also explained the importance of having a voice: "Having a voice is very important. If you are being treated badly, you should speak up and tell someone about it, or confront the person that is treating you badly in a calm and respectful manner. It does not matter what your voice sounds like or how you look. Having a voice is telling your own stories and expressing yourself regardless of what others think."
In her essay, Roya Rezaie wrote that freedom of speech is the right to express one's opinion without censorship, restraint or legal penalty.
"To me it means to protect yourself, and make your own decisions by saying what you want. Speaking up for yourself to protect your rights."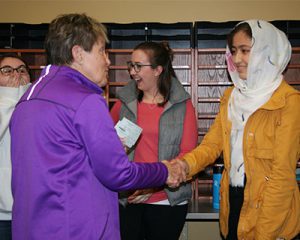 She conveyed that it is a right we all should be thankful for: "In America we have freedom of speech, and people can fight for their rights without any fear. But in some other countries people can't even say what they want because they know that their life would be in danger."
Watervliet Elks representatives judged the essays on the following criteria: originality, development of theme, and mechanics and neatness. The top prize was $75, second place received $50, and third place was awarded $25.