A reminder to parents and students in grades 3-12: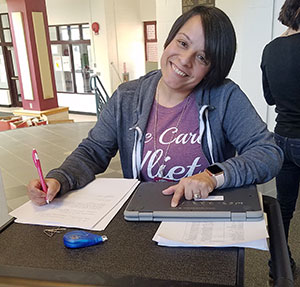 Please stop by Watervliet Elementary School (grades 3-6) or Watervliet Jr.-Sr. High School (grades 7-12) to pick up a Chromebook and stay connected to learning during the current school closure. Chromebooks are available to be signed out from 8 a.m. to 12 noon through this Friday, March 20. More information about online learning resources and tech support
No WiFi? No problem. Park your car in the WJSHS or WES parking lots and join the guest network to check your email from teachers and access learning resources. In addition to the school parking lots, the following locations in the city of Watervliet are WiFi hotspots:
The Dome, 2nd Avenue & 13th Street
Watervliet Public Library, 1501 Broadway
Immaculate Heart of Mary Parish, 2416 7th Avenue
Currently, all buildings are closed to the public, but WiFi is accessible from the outside perimeter (sidewalk, parking lots). 
Spectrum Offers Free Broadband/WiFi
In addition, to assist with at-home learning, Spectrum is offering free broadband and Wi-Fi access for 60 days to households with K-12 and/or college students who do not already have a Spectrum broadband subscription at any service level up to 100 Mbps. To enroll call 1-844-488-8395. Installation fees will be waived for new student households. More information can be found on the Charter Communications website
Tech Help for Chromebooks
How to log-on to your Chromebook
When you turn on your Chromebook at home it will search for an available wireless network to attach to. From the list of available wireless networks it finds, click on the appropriate network name and type in the encryption key that was assigned to it. If you do not know the encryption key contact your Internet Service Provider. Once the Chromebook attaches to the wireless network you will sign in to Google Chrome with your school email address and password.
For technical assistance with Chromebooks, email servicedesk@vlietschools.org 
Google Access
As a reminder, students can log into their school Google accounts and access Google Classroom with the following log in information:
first letters of their first name, first four letters of their last name and 2-digit graduation year with @vlietschools.org (For example: 3rd grader Kelly Webster would be kellwebs29@vlietschools.org)
For log-in help, please email your teacher or call your school:
WES → 518-629-3400
WJSHS →  518-629-3300