Four Watervliet High School graduates were among 13 area students recognized in June for completing the first four years of the innovative Capital Region BOCES Pathways in Technology Early College High School (P-TECH) program.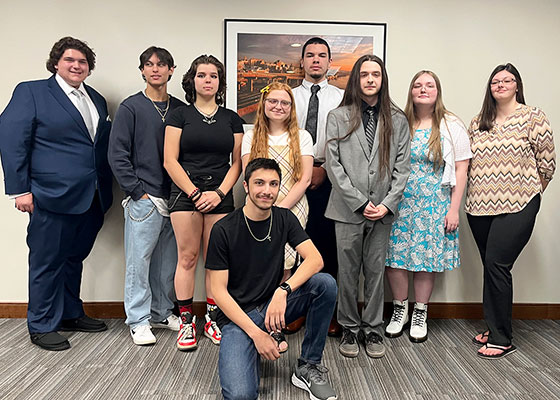 During a ceremony at the Capital Region Chamber offices in Colonie, the high school graduates, some of whom simultaneously earned their associates degrees through the P-TECH program, were recognized for taking on the rigorous task of pursuing a high school and college diploma at the same time.
Some of the graduates will go on to finish their associates degrees at Hudson Valley Community College (HVCC) and SUNY Schenectady County Community College (SCCC), others are pursuing four-year degrees at institutes of higher learning. But all have one thing in common — a deep appreciation for their experiences in P-TECH.
We congratulate the four Watervliet students, who graduated from or are finishing up their P-TECH program at HVCC, and were recognized during the June ceremony:
Kevin Cecchetto
Paige Grimmick
Makyla Jacobs
Jahmaire Thom
"I was the textbook student who wanted no place in learning. Had I not made the connections with the teachers and those involved in P-TECH, I would probably be the same person today," said Kevin Cecchetto, Watervliet High School graduate who enrolled in the P-TECH program in 2019.
Speakers praised the scholars for their hard work, diligence and choice to travel a path less taken.
"I have been attending ceremonies like these for the past 15 years. When it comes to P-TECH, the accomplishments are never higher," said Joseph P. Dragone, Ph.D., Capital Region BOCES Senior Executive Officer.
Pamela McCall, Director of College and High School Partnerships at SUNY SCCC praised the graduates for "deciding to take hold of your future" at a young age. "You all make it look easy," she said.
Other area students who graduated from or are finishing up their P-TECH program at SUNY Schenectady are listed below with their home school district.
Jacob Aziz, Scotia-Glenville
Kayla Booney, Scotia-Glenville
Jesse Butler, Schalmont
Gio D'Andreti, Schalmont
Anthony DiMascio, Schalmont
Hayden Harbers, Scotia-Glenville
Alyssa Ingle, Guilderland
Jason LeBarge, Niskayuna
Derek Zieski, Berne-Knox-Westerlo