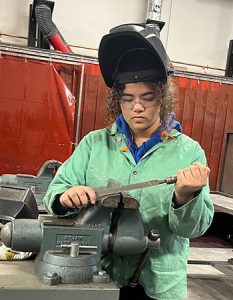 March is Women in the Trades Month. So what better time to celebrate a Watervliet student who aspires to a career in welding? Meet Kansas Ponzo!
Six months ago, the 11th-grader only knew about welding from watching a TV show. Today, Kansas is forging a bright future in the welding and metal fabrication industry thanks to Capital Region BOCES.
"I came to BOCES because I thought welding would be a good skill to learn," Kansas said, "and it is."
The high school junior said that prior to enrolling in the Welding & Metal Fabrication Program on the Capital Region BOCES Career & Technical Education Center – Albany Campus, all she knew about welding was what she saw on Forged in Fire, a popular reality TV show that airs on the History Channel.
"That show sparked my interest," she said.
The reality for Kansas and the 73 other students enrolled in the Capital Region BOCES Welding & Metal Fabrication program is that they are all fabricating solid careers by learning skills that allow them to weld pipelines, bridges and other objects. They also earn certifications that allow them to, among other things, perform work on New York State Department of Transportation projects.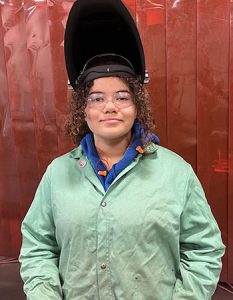 "I really enjoy welding. I like learning by doing something," Kansas said. "I want to one day work on pipelines or work out in the field repairing windmills."
Welding Teacher Connor Fancher praised his student's work ethic.
"She has been an absolute joy to work with so far this year. She is a hard worker and puts her all into whatever she is working on," Fancher said.
"Her development in the welding trade has been great to observe," he added.
For more information on the program, visit https://www.capitalregionboces.org/career-technical-education/courses-programs/welding-metal-fabrication/