Written by Megan Polaro, WHS Senior and CEIP Communications Intern
The Career Exploration Internship Program (CEIP) class offers seniors at Watervliet High School an opportunity to explore careers and get an idea of what they want to do in the future.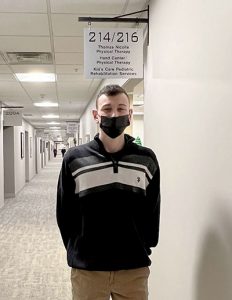 Senior Aaron Ethier is a CEIP student currently interning at Nicolla Physical Therapy in Latham. Aaron attends the internship every Wednesday under the supervision of the Head Physical Therapist Leah Klein. It has allowed him to look into the career further and learn the day-to-day intricacies of the profession. He spends time with patients in order to better understand their injury and situation and helps in any way that he can.
Aaron is interested specifically in athletic kinesiology. Kinesiology is the scientific study of human movement. When asked about what he finds the most gratifying about the internship, Aaron explained, "I look forward to it. I like seeing patients and their optimism to get better."
The internship not only provides experience, but it also pushes Aaron into thinking further into the future. "It makes me want to start earlier, go to college, and get going with my career," he said. In the future, Aaron hopes to work in an area with a high sport and athlete ratio, such as California or Florida.
Aaron shared the following advice with future CEIP students who hope to go into the same field: "If at first you don't like it, just ride it out. Understand how you're helping people and how you're making them get better."