A Watervliet High School senior is among the 16 scholars who will lead the SkillsUSA chapter of the Capital Region BOCES Career & Technical Education Center in Albany. 
Yohanan Bryant, who studies Building Trades II at the CTE Albany Campus, was inducted as the SkillsUSA Photographer for the 2022-23 school year along with other new officers during a ceremony on Oct. 18.
In the Photographer role, Yohanan will work collaboratively with the Historian to maintain the archive of pictures, videos and other information regarding the Albany SkillsUSA chapter. The Photographer also assists with advertisements and promotional material for SkillsUSA-related events.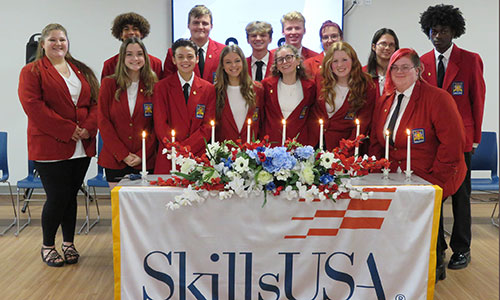 SkillsUSA is a career and technical student organization serving more than 395,000 high school students. The organization promotes personal and professional growth and offers students the opportunity to network with industry executives and professionals at the local, regional, state and national levels and to compete in competitions. The organization also promotes giving back to the community, which locally results in collections each year for food pantries and city missions.
The 2022-23 SkillsUSA officers, their program, and home school districts are as follows:
Morning officers

President – Tessa Venditti, Cosmetology II, Burnt Hills-Ballston Lake (BHBL)
Vice President – Gino Isabella, Network Cabling, Wireless Technologies and Cybersecurity, Mohonasen
Treasurer – Jacob Gilmore, Two-Year Sequence of Health Careers, BHBL
Secretary – Erin Fresn, Culinary Arts and Hospitality Tech, BHBL
Parliamentarian – Allen Reome Jr., Criminal Justice II, Shenendehowa
Historian – Anthony Ardizzone, Welding and Metal Fabrication II, Shenendehowa
Photographer – Elijah Edwards, Building Trades I, Schenectady
Community Service Liaison – Rachel Hammond, Early Childhood Education, Bethlehem
Afternoon officers:

President – Jocelyn Howe, Global Fashion II, Mohonasen
Vice President – Emily Tice, Culinary II, Guilderland
Treasurer – Luke DaBiere, Auto Body II, Shenendehowa
Secretary – Haley Titus, Welding II, Schoharie
Parliamentarian – Cody Sherwood, Cable Networking II, Middleburgh
Historian – Emily Burdikoff, Digital Media Design II, BHBL
Photographer – Yohanan Bryant, Building Trades II, Watervliet
Community Service Liaison – Blae Kinzie, Manufacturing and Machining Technology, Mohonasen
We congratulate Yohanan and all the 2022-23 SkillsUSA officers and wish them success this year!