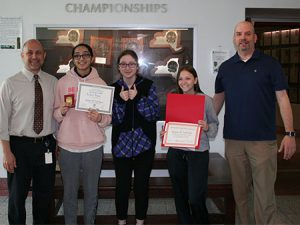 Watervliet High School juniors have earned prestigious science scholarships: Congratulations to Morgan Tambolleo and Rubab Raza!
Shout out to Steffanie Mammoser on being accepted into Union College EDGE program this summer!
The Rensselaer Medal
Morgan Tambolleo has been awarded the Rensselaer Medal, a scholarship opportunity through Rensselaer Polytechnic Institute (RPI) that recognizes successful high school students who have distinguished themselves in mathematics and science.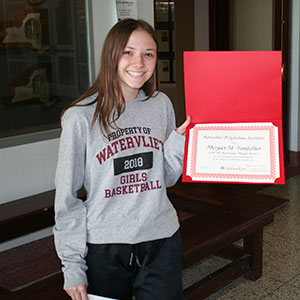 Morgan is eligible for the $100,000 scholarship ($25,000 per year) for her outstanding achievement in mathematics and science. The purpose of the Rensselaer Medal is to motivate students toward careers in science, engineering and technology. Morgan will receive the award should she decide to apply to RPI and be accepted.
To be eligible for the Rensselaer Medal, high school juniors must meet other requirements, including:
Demonstrating potential for success in a challenging academic setting;
Exceling in advanced math and science courses (accepted students have completed chemistry, physics, and a minimum of four years of mathematics through pre-calculus); and
Exhibiting significant involvement in extracurricular activities.
Bausch & Lomb Honorary Science Award
Rubab Raza has earned the Bausch + Lomb Honorary Science Award for her exemplary academic performance in science courses throughout her high school career.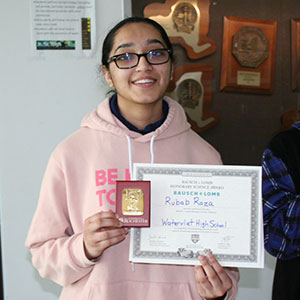 Rubab automatically qualifies for the Bausch + Lomb Science Scholarship—which provides outstanding high school juniors the opportunity to receive $10,000 per year (totaling $40,000 over four years)—should she decide to enroll at the University of Rochester.
Only high school juniors may be selected for the Bausch + Lomb scholarship based on the following criteria:
High achievement and rigor in science classes
High math scores on the PSAT and/or SAT.
Union College's EDGE summer program
Steffanie Mammoser has been accepted into Union College's EDGE program summer day camp for high school girls.
The EDGE Program combines real-life college learning experiences with activities intended to interest girls in studying science and engineering in college and undertaking a career in one of those disciplines. More broadly, it is EDGE's intent to help address the serious and continuing under-representation of women in engineering.