New initiative recognizes teachers, staff
Dan Ciaramella was chosen by his peers as Watervliet Jr.-Sr. High School's "Colleague of the Month" for October!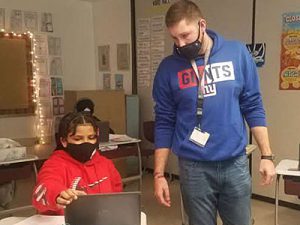 Learn more about Mr. Ciaramella in his own words.
Who are you, and what do you do at WJSHS?
I am a 6th grade teacher at WJSHS and I teach ELA and science.
Tell us a little more about yourself (hobbies, interests, etc.):
I really enjoy hanging with friends and family in my free time. I am a huge sports enthusiast, and am often found watching or playing sports on weekends.
What do you think makes a good colleague?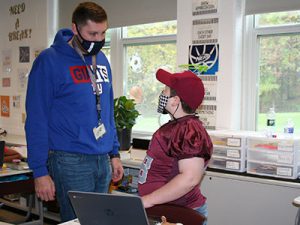 I think a good colleague is first, always professional. Along with being professional, I also think that being passionate and dedicated is another huge part of being a good colleague. With that comes a responsibility as an educator/colleague to help others and extend your efforts past your own classroom and be a part of the community.
As many of you may know, I became a member of this community, as I moved here to Watervliet recently.  This has helped me a great deal get to understand some of the good and the bad of the things that are going on in the community and the things that impact our students and their lives. I see the students every day walking around the neighborhood, and have conversations with parents often, as they are indeed my neighbors.
Lastly, I think the human aspect always plays a major role in being a good colleague, as well as a good person and community member. By that, I mean always be kind, compassionate, and willing to understand many perspectives. Being open minded, and flexible in your thinking is a way that I like to go about my career and my life in general, and I think that is what being a good colleague is all about!