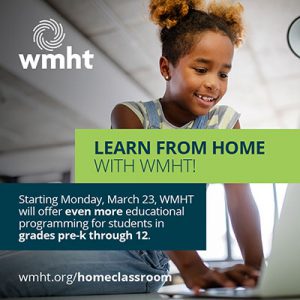 Starting Monday, March 23, our local PBS station, WMHT Public Media, is offering an educational programming block targeted to support in-home learning for students in prekindergarten through grade 12 while schools are closed.
From 8 a.m. to 6 p.m., Monday through Friday, WMHT WORLD will offer programming for students in grades 4-12. Each full day line-up will cover a range of subjects including science, math, social studies, history and literature.
WMHT will also continue to offer educational programming for prekindergarten through grade 3 students during the day on WMHT-TV and all day on WMHT's 24/7 PBS Kids channel and streaming service.
For the complete programming schedule, related resources, and additional home learning opportunities, visit wmht.org/homeclassroom.
To find any WMHT channel on your television, visit wmht.org/findwmht.