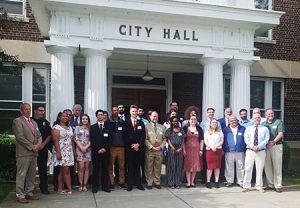 Thirteen high school seniors spent the part of the day on Thursday, May 30 with Watervliet city officials, including the mayor, council members, corporation counsel, finance administrator, police chief, judge and others, to learn about the responsibilities of elected officials and municipal workers in the city. View more Youth Day photos on Facebook
The students toured the police and fire departments, and participated in a mock city council meeting, where they shared what they learned and saw during time spent with officials during the job shadow.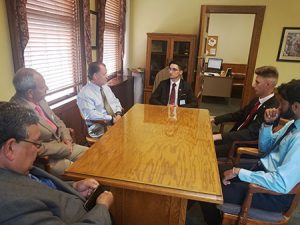 Members of the senior class vote on which student delegates to send to the annual event, which is a longstanding tradition between the city and school.
This year's student delegates included:
Mayor – Jeffrey Clermont
Councilperson – Zagham Shah
Councilperson – Jeffrey Bisner
Corporation Counsel – Alexis Dykes 
General Manager – Joe Brown
City Clerk – Kahlysa Parsons
Finance Director – Hannah Linacre
Recreation Department – Hannah Brown
Planning Department – Mustafa Raza
Sanitation Department – Daniel Moore
City Court Judge – Davina Gladney
Fire Chief – James Strock
Police Chief – Angelina Rodriguez