The Class of 2023 marked the final step in their high school journey during a commencement ceremony in the Harry Tucker Gymnasium on Friday, June 23 at Watervliet High School. In front of their families, friends, teachers, staff, administrators and members of the Board of Education, 85 seniors received high school diplomas. *NEW* Check out the Class of 2023 Graduation video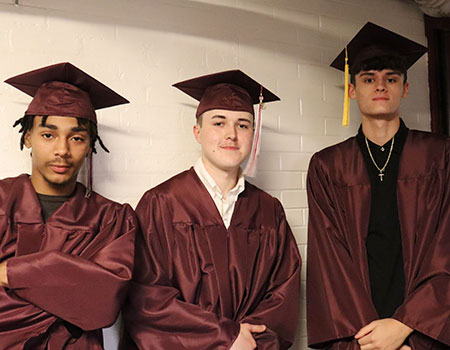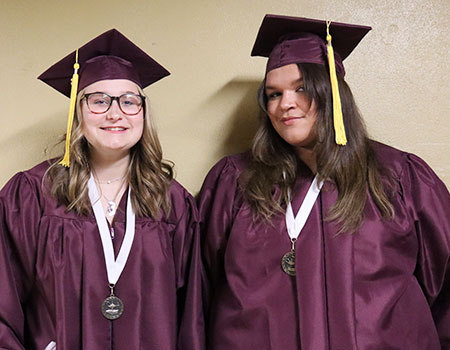 The Impact of Kindness
Principal Jessie Richards welcomed families, friends, faculty, staff and special guests to the ceremony, her first as leader of Watervliet Jr.-Sr. High School. Ms. Richards reflected on the "United in Kindness" theme championed by the district this past year, and asked the graduates to think of those whose kindness had an impact on their journeys as Watervliet students. "These moments of kindness have helped you become the person you are today. They have helped you persevere through the hardest moments," said Ms. Richards. "Although we are here to focus on the end of a chapter, you are also getting ready to start a new one. No matter what pathway you've chosen, college, military, work – you're getting ready to start a new chapter. I encourage you to continue to build kindness in that chapter. Be an example for those who are younger than you, or possibly even those who may not have had as much experience with kindness."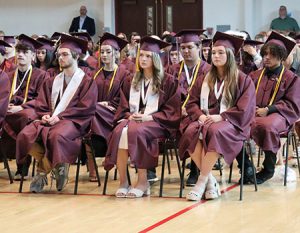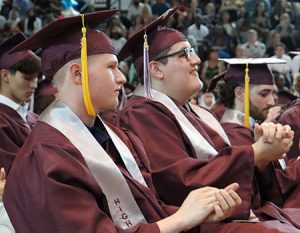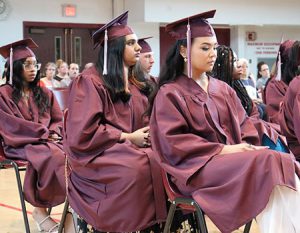 Focus on the Positive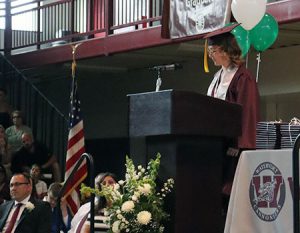 After taking classmates on a walk down memory lane ‒ recalling simpler moments from elementary school, like the annual Halloween Parade, Field Day and field trips ‒ senior Sophia Prew spoke about how the COVID pandemic impacted the high school years for the Class of 2023. Rather than focus on the negative effects, Sophia focused on the 'wonderful things' that happened during those "unprecedented times."
"When we were first coming back from COVID during the hybrid year, we spent days outside walking with one another on the track. This was more than glorious because of all of the time that we had to spend with one another. We learned to work more closely with our peers, and to ask for help when we needed it. We learned to cooperate and function as a team simply because we wanted everyone to succeed. Arguably most important, we learned to value one another and the time that we have spent together," shared Sophia. "After returning to our first 'normal' year of high school – and our last year – we did everything to scrape money together, and have opportunities to make memories with one another. We had wonderful people, teachers, students, and parents do everything in their power to make this last year together worth all of the challenges we have faced. Of course the pandemic has been something that has affected us all irreparably, but I'd like us all to take something from it. In whatever way it may have changed you, or simply even made you question how things typically were for you ‒ welcome different mindsets. Think and grow, because it makes us wiser. Be susceptible to change, and take opportunities to learn."
Retiring Educators Honored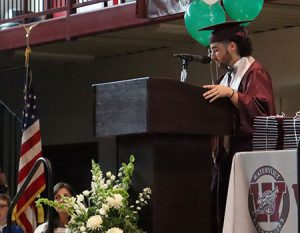 Senior Anthony Bisner paid tribute to Watervliet High School's three retiring educators as he called each to the stage to receive a gift from the Class of 2023.
Mr. Peter Gaddy taught business, food and hospitality courses for the past 17 years. "You have done so much here at Watervliet to really emphasize inspiration to students. No matter what the situation was, you always had an answer. If it was with schoolwork, cooking, college or life in general you were always prepared to help," Anthony recalled. "You will be greatly missed here and best of luck with future endeavors. But remember just like you told me, don't ever back down from a challenge and if you get hit down … get right back up and keep going!"
Ms. Natalie Spence, an art teacher at Watervliet High School for 31 years. "I want to thank you for pushing students to strive in an area where they have passion. I know many students have said art was a getaway for them with a strong passion and you always delivered them with the material they needed," Anthony mused. "I want you to know you will be greatly missed here at Watervliet and we wish you nothing but the best with future endeavors. All I ask is you never put that sketchbook down and keep drawing and painting until you can't!"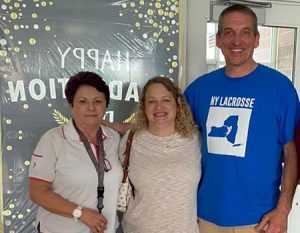 Ms. Camelia Sofrone, a math teacher for 18 years and the high school's resident "dancing queen."
"You have made learning easy and fun for students throughout the building, and you have created many memories with students, staff and even families. Students and teachers say you know it's a good day when Ms. Sofrone is dancing and singing in the hallway," Anthony quipped. "I want to thank you for pushing students to the best possible level you could get out of us. Even throughout the pandemic you found a way to still deliver material just like we were sitting in your classroom like nothing ever happened. I wish you nothing but the best with future endeavors and safe travels back home. Keep dancing and enjoy retirement!"
Cannoneer Pride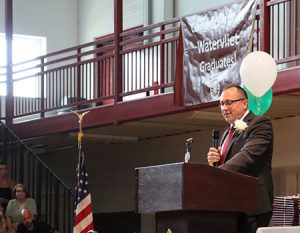 Superintendent Dr. Donald Stevens addressed the graduating seniors and guests by talking about this 'Vliet thing' called Cannoneer Pride.
"I started my career as a teacher in Watervliet 17 years ago, and since taking on the role of superintendent last year, I cannot begin to tell you the level of pride that I have for this school district and surrounding community," he said. "I feel it when I walk through the hallways, when I visit a classroom, when I cheer at a sporting event, or applaud at a musical concert. And most of all, I feel it standing in front of you this evening."
He then spoke directly to the Class of 2023. "Be proud of your accomplishments. You are and will always be a Cannoneer. Don't forget where you came from and remain proud of your roots – Watervliet High School – Home of the Cannoneers."
He continued, "This community that surrounds you tonight is immensely proud of you. And you should be just as proud of your achievements. In a few moments, you will move on to the next chapter of your lives. We hope that we have instilled in you the courage to overcome any obstacle in your way and to embrace the opportunities ahead of you. Some of you will stay close and others will travel far, but always remember that you have Watervliet to fall back on whenever needed."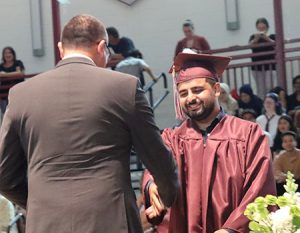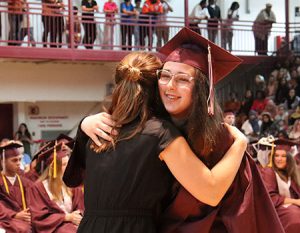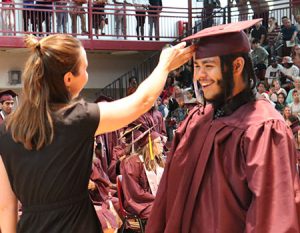 Remembering Matt Billets, Class of 2023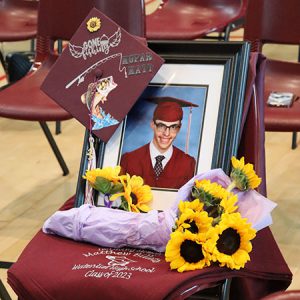 Before the diploma presentation, Dr. Stevens asked for a moment of silence and reflection to honor Matthew Billets, a beloved member of the Class of 2023, who passed away last year.
"On behalf of the Class of 2023, the Watervliet City School District Board of Education, and the entire faculty and staff, I have the honor and privilege to award Matthew William Billetts a posthumous diploma for all of his accomplishments with the Watervliet City School District," Dr. Stevens said before calling members of Matthew's family to the stage to accept his diploma.
More Class of 2023
Facebook Photos