When nine Watervliet High School seniors – who graduate this week – head off to college in the fall, they will have the technology necessary to succeed thanks to the Watervliet Housing Authority (WHA) and the generosity of area businesses and community sponsors.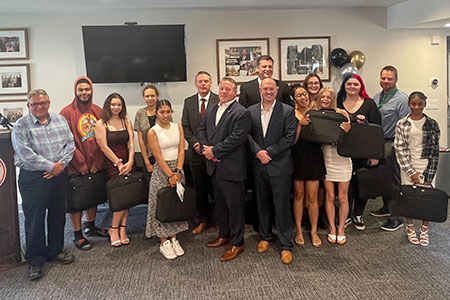 Housing Authority Executive Director Matthew Ethier presented laptop computers to Daytwan Coleman (HVCC), Iliana Coleman (HVCC), Nevaeh Edmonds (College of Saint Rose), Aylia Finch (HVCC), Yazmyn Head (HVCC), Makyla Jacobs (HVCC), Anthony Jefferson (HVCC), Susan Rahimi (HVCC), and Kamaya Reynolds (HVCC) during a ceremony held in the Charles A. Jeseo Meeting Room at the WHA's Administrative Offices on June 20. The soon-to-be Watervliet alumni received the laptops as a result of working hard toward their goals to successfully complete high school and pursue higher education at a two- or four-year college.
The WHA presented the devices to a total of 15 college-bound high school seniors from the Watervliet and Green Island communities. The Housing Authority started the "Laptops for Graduating Seniors" program several years ago with support from community sponsors to provide laptop computers for college-bound high school seniors who may not otherwise have the resources to purchase their own. Since the program's inception, the WHA has given upwards of 50 computers to students preparing to attend college.