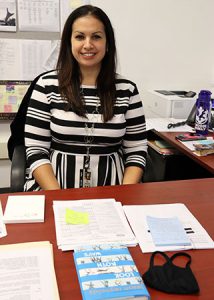 Carmen Diaz, who began her new role as Director of Curriculum and Instruction for Watervliet schools in October, describes herself as a lifelong learner who is committed to education.
"I've always loved working with kids and teaching others," she said. "I knew at the age of 12 that I had to be a teacher. It is the most rewarding and challenging career I've had ─ I grow and learn every day."
Her career in education began in Connecticut where she taught at the elementary level for about 10 years before moving to New York. More recently, Ms. Diaz served as a resource specialist and then leader for the Regional Bilingual Education Resource Network (RBERN) coordinated by the Questar BOCES. Funded by the New York State Education Department, RBERN provides support for bilingual and English as a New Language (ENL) programs and parent advocacy to 149 districts, several charter schools and private schools throughout 20 counties in the greater Capital Region, Central New York and the North Country.
Superintendent of Schools Dr. Donald Stevens Jr. said her background with planning and implementing professional development for educators along with her experience supporting English Language Learners and their families will be a valuable resource as the district moves forward with the curriculum and instruction work that is underway.
"Carmen brings a wealth of knowledge and skills as an instructional leader and will bring a unique perspective as we continue to move forward with curriculum work and look more at diversity, inclusion, and practices to better support teaching and learning, such as response to intervention," said Dr. Stevens. "On behalf of administrators, teachers and staff, I welcome Carmen to the district and look forward to having her be an integral part of our leadership team."
Ms. Diaz graduated from the University of Connecticut (UConn) with a Bachelor of Arts in English, and then earned her Masters in Education from Sacred Heart University. She is currently pursuing a Doctorate in Educational Leadership at Russell Sage College.
Ms. Diaz said that she looks forward to working with educators on curriculum and teaching practices, a role that will also allow her to get back into classrooms and connect to a community of families and students. "I've missed the connection to a community since I left the classroom," she said.
Her short-term goals involve building relationships with the district's educators, leaders, families and community members. "To form teams that can positively impact our district, we need to invest in the people who live this work every day," said Ms. Diaz. "My long-term goal is to help this amazing team provide the best possible opportunities for Watervliet's students and families."
Five Questions with Carmen Diaz, the new Director of Curriculum and Instruction
Q. What activities do you enjoy in your free time?
In my free time, I read, I like to craft, I spend time with family and friends, and find active things to do with my dog, a schnauzer named Chewbacca.
Q. What's your favorite type of music?
I have a variety of music interests ─ from classic rock to classical and opera. I was nearly a music education student in college. Now I just listen to music for fun.
Q. What is your favorite book (or current book that you are reading)?
I'm reading several articles and research reports for my dissertation at the moment. But I'm also in a book club with friends. This month's book is "The Book Thief."
Q. What makes you laugh?
I love corny 80s and 90s comedy movies. I also love old comedy shows like "I Love Lucy" and "Gilligan's Island".
Q. Any other thoughts you would like to share with the school community?
I look forward to getting back to my roots; which for me means being a part of the community and getting back into classrooms. I look forward to the opportunity to take a deep dive into the curriculum and move forward with the work the district has been doing to help support teachers and learners. Also, I hope that everyone can see the passion that I bring to this profession.