Meet Sarah Horaczek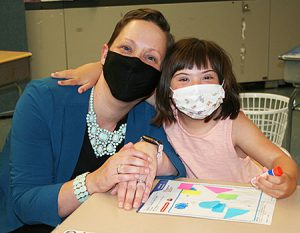 In June, the Board of Education appointed Sarah Horaczek to the position of Director of Special Education and Student Support Services. On Monday, July 12, Ms. Horaczek officially began her new role with an administrative team meeting in the morning followed by a visit to the district's extended school year program.  
Ms. Horaczek has been an educator for 19 years, most recently she served as the principal for the Capital Region BOCES Maywood School. Ms. Horaczek follows Janelle Yanni, who retired in February after serving as the director of special education and pupil services for the district for more than three decades.
"We welcome Sarah and are confident that her significant experience as a special education teacher along with her leadership skills make her a great support and resource for our students with special needs and their families," said Superintendent Dr. Lori Caplan. "She is a great addition to our leadership team and we all look forward to working with her."
A message to Watervliet families from our new Director of Special Education: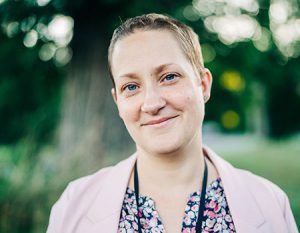 It is with great excitement that I write this letter and introduce myself as the new Director of Special Education and Student Support Services for Watervliet City School District! I am honored to have the opportunity to work with such wonderful students, an extremely dedicated staff, and a supportive school community. I will officially begin July 12 and will be working closely with the current Interim Director, Tony Albanese, who has done great things in his time there. I have appreciated how welcoming and enthusiastic everyone I have met at Watervliet is!
I view education as a life-long process and can't wait to learn from the Watervliet community. As part of this philosophy, I am pursuing my PhD in Educational Policy and Leadership with a focus on Special Education. The 2021-2022 school year will mark my nineteenth year as an educator. During that career I have worked as a Teaching Assistant in Special Education, a K-8 teacher in New York City and Menands, and an Instructional Technology Integration Specialist. My most recent position was as the Principal of Maywood School for Capital Region BOCES where I supervised kindergarten through age 21 special education programs for students with disabilities placed out-of-district. I am most proud of the K-age 21 TEACCH autism programs I helped open for BOCES, as well as the restorative practices I helped bring to the social emotional programs. I currently work with some Watervliet families now and am excited to serve everyone in the district this coming school year!
On a personal note, I live with my family in Rotterdam and am a resident of the Mohonasen Central School District. Along with my husband I help raise a 14 year old daughter and 12 year old son, two dogs, two chickens, two guinea pigs, and a turtle! I cherish the time I have with my family and they are really excited for my new adventure at Watervliet!
My conversations with district staff and families thus far have already brought me insights into the core beliefs and values that drive Watervliet City Schools. I truly believe in Watervliet's mission statement- we need to inspire, educate, and challenge every student, every day! I will work hard every day to fulfill this promise.
Because the relationships between families, the community, and the school are vital to the success of our students, I encourage you to become involved in every way possible. I look forward to meeting you soon!
Sincerely,
Sarah Horaczek