District and building leadership teams welcomed 25 new staff members to the Watervliet City Schools during the annual new staff orientation on Wednesday, Aug. 31.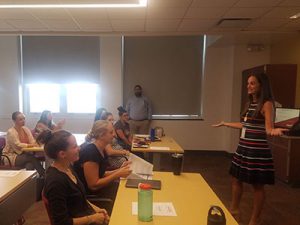 Principals greeted new staff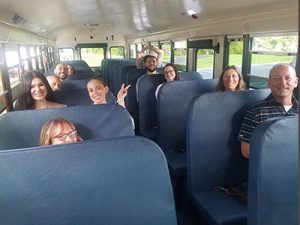 assigned to their respective buildings at the beginning of the daylong event, which included tours of the schools; a review of district policies; discussions about classroom management, the Code of Conduct and other procedural topics; and opportunities for technical assistance, such as signing onto the district network, and accessing e-School for student data, as well as general questions and answers.
New teachers and staff then hopped aboard a school bus for a tour of the 1.3 square mile city.
Upon returning to Watervliet Jr.-Sr. High School, they met with Assistant Superintendent for Curriculum and Instruction Kelly Webster who summarized district goals, discussed curriculum/standards-based units and shared the district's professional development plan. New staff also had an opportunity to meet their mentors.
Before Superintendent of Schools Dr. Donald Stevens administered the oath to the new employees, he described for them his experience of being hired as a new teacher at Watervliet Elementary School some 16 years ago.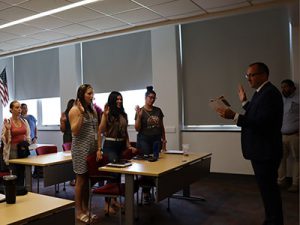 "I knew the moment students walked in the first day that this was a place I was going to love; this was a place that I was needed; this was a place that embraced me as a new member of the faculty," Dr. Stevens said. "I found a home and I have not looked back."
Lunch was provided courtesy of the Watervliet Teachers Association (WTA) after which the new staff regrouped for roundtable discussions with the WTA presidents.
If you are interested in joining the Watervliet City School District team, visit our website to learn more about employment opportunities: https://www.watervlietcityschools.org/employment/