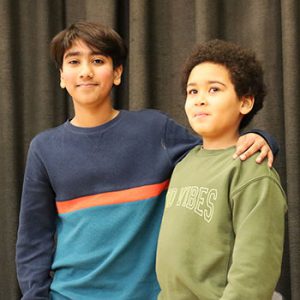 It was a nail-biter to the end, but in just over an hour ‒ and 148 words into the competition ‒ fifth-grader Usloob Ashgar edged out fourth-grader Za'Kyi Burks to become champion of the annual WES Spelling Bee! 
The bee lasted 18 rounds before Usloob from Mrs. Bird's fifth-grade class, captured the title ‒ correctly spelling the word "bovines" ‒ to outlast runner-up Za'Kyi from Mrs. Williams' fourth grade class.
In total, 22 fourth- and fifth-grade students competed in the school's annual Spelling Bee. Students qualified for the competition by being the top two spellers in their classrooms as determined by their scores on a voluntary spelling test. The spelling bee was streamed live into classrooms for students and teachers to watch.
Assistant Principal Catherine Casey presided over the bee as the official pronouncer, with Superintendent of Schools Dr. Don Stevens, Assistant Superintendent Kelly Webster and Board of Education President Sheri Senecal serving as judges.
We are proud of all spelling bee participants (listed below) and we thank families and friends for their support of the students!
Grade 4: Za'Kyi Burks, Nolan Herb, Matthew Kayembe, Fallon Miller, Juliana Pankow, Jose Perez, Sebastian Reynoso, Colden Thinesen, Tyler Thurman, Emoni Williamson, Joshua Wright, Bianca Yetto
Grade 5: Usloob Asghar, Adriyana Baxter, Valentina Feeley, Kareem Givens, Diondre Glover, Frank Jones, Jamie Jordan, Sophia Leaks, Makhi Martin, Xander McCarthy