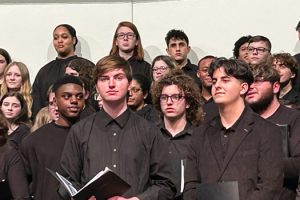 UPDATE: High School Choral Festival on WMHT-TV tonight!
You're invited to tune in to WMHT tonight – Wednesday, Feb. 8 at 7:30 p.m. – to see a spotlight on Albany Pro Musica's recent High School Choral Festival! A team from WMHT's AHA! A House for Arts was there to capture some of the highlights. You can watch on television or online here: https://www.wmht.org/aha/
We congratulate two Watervliet High School students who were invited to perform in the Albany Pro Musica High School Choral Festival held this past weekend at the UAlbany Performing Arts Center.
Ninth-grader Kylee Shellenberger and tenth-grader Oliver Tobin were selected by application to sing with a 175-member choir made up of students from more than 30 schools across the Capital Region. Oliver performed at Saturday's festival. Unfortunately, Kylee was unable to attend.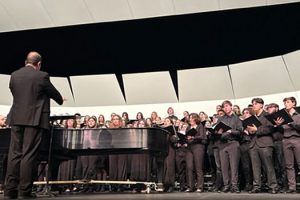 The Albany Pro Musica festival featured a full day of vocal workshops, rehearsals, and enrichment opportunities on the UAlbany campus, and ended with a concert that was open to the public.
We are proud of both Oliver and Kylee for being selected to participate in this exciting opportunity!
About Albany Pro Musica
Albany Pro Musica (APM) is the preeminent choral ensemble in New York's vibrant Capital Region and is renowned for its distinctive artistic style and its command of a wide range of musical genres. Critically acclaimed for its performances of intimate a cappella pieces and large-scale choral works alike, APM is led by Opalka Family Artistic Director Dr. José Daniel Flores-Caraballo and is Chorus-in-Residence at the historic Troy Savings Bank Music Hall.