Two of our friends from the Watervliet Fire Department visited the elementary school to share fire prevention and safety tips with students during National Fire Prevention Week (Oct. 9-15) . Reflecting on this year's theme – "Fire won't wait. Plan your escape" – Lt. Tim Delisle and Firefighter Phil DiPompei reminded students about simple yet important actions they can take to keep themselves and those around them safe.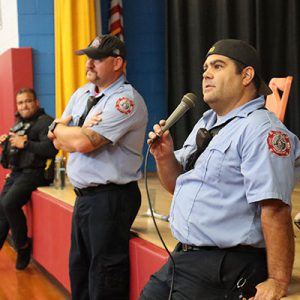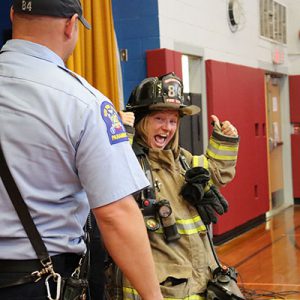 The firefighters encouraged students to practice fire safety at home by making sure to change the batteries in smoke detectors and carbon monoxide detectors every 6 months (fall and spring) and have a plan with at lease two escape routes to evacuate safely from their homes in the event a fire starts. The two explained that most fires occur as the result of human error, such as playing with matches, leaving lit candles unattended or placing flammable items too close to a hot stove.
The firefighters also cautioned that most injuries from house fires are smoke related, so it is important to get out of your house as quickly as possible and not go back inside to retrieve belongings. "Your toys can be replaced," said Lt. Delisle. "You cannot be."
Students also had the opportunity to explore a fire truck and ask the firefighters questions about their work and the education needed to become a firefighter.