Move over Ben & Jerry. Fourth-grade students at Watervliet Elementary School recently learned to create their own homemade ice cream quickly and without any sophisticated machinery.
Under the watchful eyes of their teachers and with step-by-step instructions provided virtually by Sammie Baker of the Albany County Cornell Cooperative Extension, the fourth-graders carefully poured light cream, vanilla and sugar into a small plastic sandwich bag and sealed it tight before placing the bagged mixture into a larger plastic bag containing rock salt and ice. The students then proceeded to shake the bags vigorously for several minutes, pausing briefly to check if the liquid mixture had turned to solid.      
Their hard work was soon rewarded as they spooned the chilly – but yummy – ice-cream mixture from the plastic bags to a cup and then into their mouths.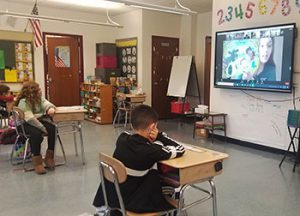 Ahead of the ice-cream making activity, Ms. Baker read "Tales of the Dairy Godmother" a memorable adventure about a young boy's visit to a dairy farm courtesy of his "dairy" godmother where he gets a firsthand look at the hard work and care that goes into producing his favorite food – ice cream!
Thanks to the Capital Region BOCES Shared Food Service program in partnership with the Albany County Cornell Cooperative Extension for presenting the virtual the ice-cream-making activity as part of the Farm-to-School program. Every student, including at-home learners, received an ice-cream making kit to participate in the activity. View more pictures on Facebook
"Through this simple demonstration, students learned more about dairy farms, where dairy comes from, and the science behind making ice cream," said Claire Groudine, Capital Region BOCES School Lunch Director. "Through our farm-to-school efforts, we hope to connect the cafeteria and the classroom, and teach students about where their food comes from."