Written by Megan Polaro, WHS Senior and CEIP Communications Intern
In April, Watervliet Jr.-Sr. High welcomed guest speaker Mary Miller of the New York News Publishers Association (NYNPA). Miss Miller joined Mr. Emerson's Government/Economics classes to explain how to find the truth in a world of "fake news."
Guest speaker encourages students to identify and verify sources of information to achieve media literacy
The guest speaker explained to students the difference between multiple types of information, sometimes referred to as information neighborhoods, which include: publicity, propaganda, entertainment, advertising, and raw information. It is important to recognize which neighborhood you are in to determine how reliable the information is.
Miss Miller offered a list of key questions to ask yourself while reading, such as "Who is the target audience?" or "What important information is left out or missing?" These questions help the reader to better understand the message.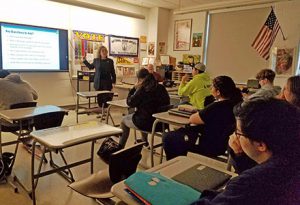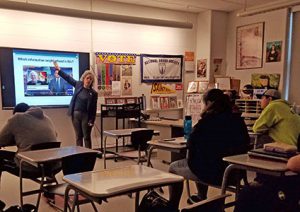 In addition, Miss Miller outlined the following four principles that the Society of Professional Journalists believe build the foundation of ethical journalism:
Seek the truth and report it
Minimize harm
Act independently
Be accountable and transparent
We thank Miss Miller for joining us as a guest speaker and for sharing this valuable information.