Students in grades 7-12 who earned an overall GPA of 89.45 for two consecutive quarters were invited on a snow-tubing trip to West Mountain to celebrate their hard work and academic success.
About half of the 110 scholars who earned high honor roll status during the second quarter marking period attended the snow-tubing extravaganza in mid-March. Trip chaperones reported that "students had a blast" snow-tubing and enjoying pizza in between rides down the slopes.
Special thanks to the eight teachers and one parent who volunteered to chaperone the trip.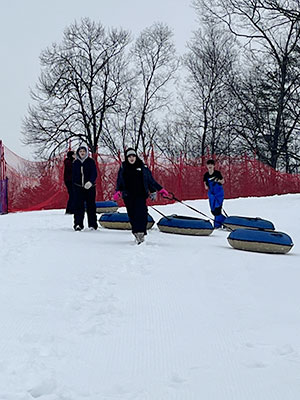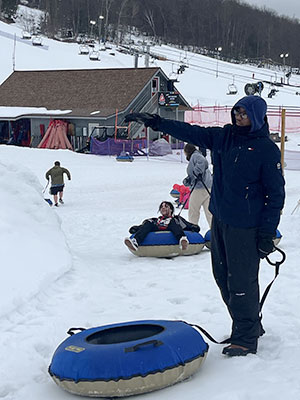 Grade 7
Angel Aviles, Haleema Baloch, Nicholas Cheng, Sophia Cottrell, Philip DiPompei, Lily Donnelly Khaliyah Ebanks, Callan Fandl, Keith Francis Jr., Ireona Gordon, Julianna Hernandez, Jayleen Herrara, Kendall Hoefer, Imam Kamal, Brady Kelly, Lanie LaBoissiere, Mason Lee, Jack Link, Matheus Enrique Manchame, Farah Murshed, Mansoor Najibi, Ocean White, Mahalia Williams, Ethan Wistuk, Aaliyah Yarn
Grade 8
Razak Aboubacar, Kharyn Acosta, Umi Aimun, Allanah Barnes, Hanna Clow, Kadence Coleman, Maggie Cramer, Aarion Ketchmore, Jacob Konteh, Ella LaBoissiere, Aminah Miller, Mujtaba Mohseni, Daniel Montanez Vargas, Anthony Morelli, Brian Norwood Jr., Anthony Pastore, Kai Pellaton, Isabella Pontari, Kelly Popson, Makenzie Ryan, Ryder Salley, Milo Scattareggia, Robert Smart Jr., Leo Soroka, Anthony Truscello, Fereshteh Vafai, William VanPatten III
Grade 9
Sara Alano De Felgueiras, Faezeh Amiri, AJ Aviles, Kaelyn Bagnardi, Fiona Cheng, Alex Connors, Jordan Dalpe, Tyleonna Edge, Chase Farrell, Colby Ford, Mi'king-Lameik Johnson, Julia Leibach, Jaelyn Maldonado, Kiley McMahon, Ovalle Jannel, Mahogany Pleasant, Maylee Rodriguez, Sophie Schwartz, Jack Sierra, Jaden Sierra, Bella Strack, Ethan Tinkler, Ava Urquhart, McKenzie Wasson, Madalyn Wells, Owen Zawistowski
Grade 10
Rayan Ahmed, Julius Bostick, Kayla Denyce Dinoy, Daniel Empie Jr., Noor Ul Faheem, Dua Kamal, Phoebe Mammoser, Aiden Norizsan, Kasiah Poole, Samaneh Rahimi, Brody Wallas, Evamae Williams Bryant, LaJay York
Grade 11
Maryam Ashouri, Ahmad Babar, Ayla Bagnardi, Maria Barsoum, Alana Blenman, Quinn Conlen, Mariah Covington, Khalaysia Dowdell, Roman Fraser, Jessenia George, Jovanni George, Jabari Morris Hurd, Abriana Keith-Evans, Katera King, Gustavo Martins DaSilva, Olivia Miller, Raveena Mujahid Zai, Jacob Oathout, Justin Oathout, Demari Perkins, Chloe Sherman, Zoie Wass, Jaeden Wellman, Ali Raza Ziai
Grade 12
Gabriel Alano Dos Santos, Anthony Bisner, Alana Blenman, Kevin Brammer III, William Burke, Aleena Choudry, Michael Cruz-Perez, Grady Delap, Nevaeh Edmonds, Andrew Fisher, Autumn Gillam, Emma Grimmick, Yazmyn Head, Tijay Henny, Logan Jamrosz, Karina Leibach, Serena Miller, Sophia Prew, Susan Rahimi, Elijah Rodriguez, Bianca Smart, Peytan Smeltzer, Alexander Smith, Cassandra Zawistowski
Grade 7
Jameah Allen, Mark Barsoum, Timothy Glenn, Kylie McGough, Cayden Riley, Teagan Ryan, Johnavin Sapienza, Penelope Sebastiano, Carter Smith, Jahnyla Smith, Ailey Treacy, Jordan Winnie
Grade 8
Kareem Chestnut, Shania Kent, Nysahn Maye, Elijah Mayo, Zaniyah Mott, Hamzah Qasem, Jamisen Resciniti, Bryce Sanders, Ray'al Simmons, Karoline Sisco, Morris Ssesanga, D'Marcus Stone, Nevaeh Terry
Grade 9
Yazen Algahim, Jeremiah Barnes, Machi Clark, Gavin Darling, Joseph Dembrosky Jr., Nakiryn Hardy, Annalys Hayes, Momin Kamal, Jose Ferreira Manchame, Haley Petersen, La Ziel Rodriguez, Kylee Shellenberger, Juliana Stark
Grade 10
Alexander Acosta, Alexandria Chiboucas, Alexandria Collier, Zayden Crouse, Antonio Cunha Ribeiro, Jaden Falsen, Moises Fernandes Soares, Abdullah Hodge, NaDre Irving, Talisia Johnson-Taylor, Leniyah Leslie, Shawn Lockett, Aracely Martinez, Anise Muhammad Azim, Zack Nixon, Elanore Robinson, Mya Sentmier, Aleena Sharpe, Jacob Timberlin, Lea York
Grade 11
Jarell Adams, Michael Bendon, Mikayla Brown, Karlton Canty, Cecilia Durivage, Jireh Henriquez, Janae Joyner, Kyle Krempecki, Joseph McAvoy, Madalyn Moran, Pierce Ploof, Calen Walker, Matthew Wistuk
Grade 12
Sahir Babar, Yohanan Bryant , Isabella Carbonneau, Daytwan Coleman, Matthew Ehrke, Anthony Jefferson, Gianna Latimer, Daniel Martinez, Marceleno Montanez, Bryan Montanez Vargas, Saleha Nayebi, Thaddeus Phillips, Domenic Rivera, Raina Rohenaz, Toby Shufelt, Malik Simms, Gabriel Storms, David White, Deville Wilson, Ryan Wroblewski