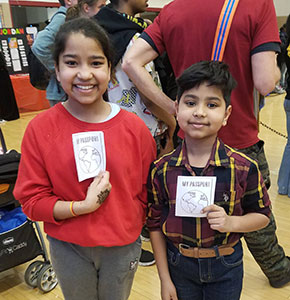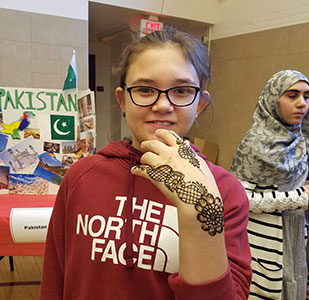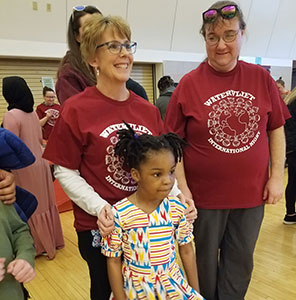 Approximately 300 students and families, teachers and staff turned out to celebrate diversity and learn more about the many cultures represented in our schools during International Night at WJSHS on March 21. 
Students ventured around the globe (cafeteria) to have their passports stamped as they visited informational tables representing 15 countries, including Afghanistan, Argentina, Bolivia, Brazil, Canada (Quebec), Chile, Ecuador, Germany, Iceland, Ireland, Italy, Jamaica, Japan, Mexico, and Pakistan.
Along the way, they had opportunities to participate in hands-on activities, games, and arts and crafts associated with those countries. A steady line of adults and children, for example, waited patiently in line to have volunteer artists design beautiful and intricate henna tattoos on their hands and wrists.
For the foodies, Jamaican Jerk Chicken, grape leaves, moussaka, tortillas, and golumpkis were among the array of tasty dishes from countries around the world that were available for everyone to sample.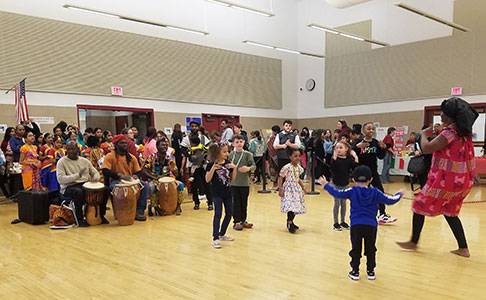 Several music and dance performances, including folk songs and dance, Samba Drums, West African Dance and Drums, Classical Indian Dance, and Irish Step Dance had many tapping their feet, while others joined the action on the dance floor!
We recognize and appreciate the families and community members and organizations for providing global musical performances and dance demonstrations, including Augustina Nelson & Co., the Narthanalaya School of Arts, the Hoefers and the Boland School of Irish Dance, Colin Elletto & Co., and Mary Collette and Andrew Cowie.
We thank the 60 teachers and staff, and 30 students who created and presented cultural displays and exhibits, and all who volunteered to help with set up, clean up, serving food, and other support that made our first International Night a huge success!
We look forward to an even bigger, more successful International Night next year!