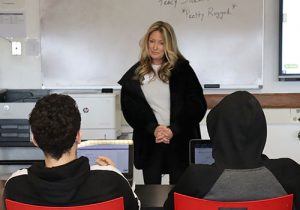 It's not every day that students get to meet and mingle with a successful entrepreneur, let alone one who appeared on the popular TV show Shark Tank.
Yet that is exactly what happened recently when Tracy Slocum, owner of the local company Pretty Rugged, visited Watervliet Jr.-Sr. High School to share her success story with students and inspire them to never give up on their ideas.
"Don't let what you don't know stop you. Trust in yourself and your ideas," she advised students in Dan Lindeman's entrepreneurship course. "Success is 80 percent hard work, and 20 percent luck. Show up every day and put your best energy into doing what you love."
Pretty Rugged earns accolades right out of the gate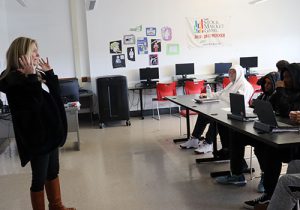 Ms. Slocum is the founder and CEO of Pretty Rugged, a woman-owned and operated business that developed a first-of-its-kind product that brings both comfort and functionality to the outdoor experience. Her Pretty Rugged blanket features luxurious faux fur on one side and waterproof, windproof, washable fabric on the other. The stylish, warm and water-resistant blanket comes in a variety of vibrant colors and is ideal for picnics, ballgames, tailgating, boating, most any outdoor activity.
A few months after its debut in 2017, the Pretty Rugged blanket won "Best in Market" and "Best New Product" at NY NOW, the state's largest home and gift wholesale tradeshow. The innovative products then caught the attention of Oprah Winfrey's team; and soon after, the Pretty Rugged pet blanket earned a spot on Oprah's Favorite Things list for the 2018 holiday season. The company's product offerings have since grown from the original, baby and pet blankets to include apparel.
Landing a Shark (or two)
Students had opportunities to ask questions throughout Ms. Slocum's presentation. They asked the materials used to manufacture her trademark blankets, where her products are made, about her team, and about how she determines pricing for her products.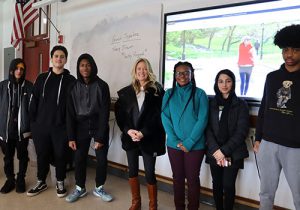 The topic that sparked the most student interest, however, was Ms. Slocum's experience on Shark Tank. They listened intently as she described the long and labor-intensive audition process for the show, which included an initial pitch, an interview with producers, completing an application with 200 questions in one week and several video submissions. Approximately one year after her first contact with the show's producers, Ms. Slocum was chosen to appear on the show.
"I went to LA (Los Angeles) by myself. When I got in front of the Sharks, I forgot my entire pitch. So I stood there and took a breath," she said. "I know my story, so I just started talking and was my authentic self. It was not the pitch I had practiced, but turns out the Sharks loved my product."
Ms. Slocum's unrehearsed pitch persuaded two of the Sharks to invest in her Pretty Rugged brand.
She credits her appearance last fall on Shark Tank with changing the trajectory of her business. "After the exposure on Shark Tank, sales of Pretty Rugged blankets have been mind-blowing," Ms. Slocum told the class.