Allan Gadsden was raised by a single mom in the largest housing project in one of the toughest neighborhoods in Queens, NY. Mr. Gadsden, who was officially appointed to the position of Family Outreach Coordinator for Watervliet schools, said he relates to the district's students, many of whom are economically disadvantaged and are growing up in single parent homes.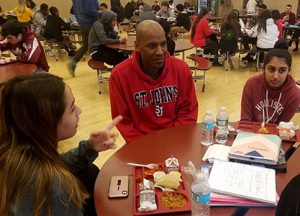 "Having been born and raised in the projects, I see and have seen what tough living is about," he said. "My parents were divorced. Growing up in a single parent home, I saw how hard my mom worked to become a teacher herself. She is my biggest role model and my inspiration to pursue earning my master's degree in coaching and athletic administration."
In his role as Family Outreach Coordinator, Mr. Gadsden serves as a liaison between school and home for students and families, and as a resource for students, families, teachers and staff, to foster more positive relationships and help build a stronger school community.
"I see with these kids a lot of the same struggles that I went through. I grew up in a single parent home. I see that here. I see athletes. I was an athlete. I struggled in school and skipped classes at times. So, I see a little bit of me in every last one of these kids," he said. "Another piece I see with me being here is the kids gravitate to someone who looks like them. Our staff doesn't reflect the student body just yet, and so I have felt like them at times."
Previously, Mr. Gadsden worked for more than a decade in the Albany City schools and the Niskayuna Central School District in a variety of classroom settings from physical education and special education to supporting at-risk students.
"I have experience working with students across the board in both urban and suburban school settings. Watervliet actually is a great mix of both, but just in a smaller setting," he said. "Having been in different classroom and school settings has prepared me for the role of family outreach coordinator. In this position, I have more flexibility in my schedule and a chance to work with ALL students."
An important part of the family outreach coordinator position is being that bridge between families and the school.
"I can be that ear to listen to the concerns of students and parents, and a voice for them inside the building," said Mr. Gadsden. "I can be someone they can talk to, and I can talk with their parents, and share information with staff and teachers to help them understand what's going on in the young person's life and how it may affect behavior and academics."
Mr. Gadsden often can be seen interacting with students in the hallways at Watervliet Jr.-Sr. High School or visiting with students during lunches at both buildings. He checks in daily with students in the out-of-school suspension program at the Civic Center, and he will begin making regular stops at the elementary school to meet and work with small groups of fifth- and sixth-grade students. Mr. Gadsden also meets with the district's Student Support Team (SST), and he engages regularly with building principals to identify students and families who will benefit from his presence.
"I think Mr. Gadsden's life and work experiences are an asset as we continue to define the role of family outreach coordinator," said Principal Ryan Groat. "In the short time he has been here, I see him making genuine connections with staff and students alike."
As the role evolves, Mr. Gadsden is seeking to add a motivational or inspirational piece to his position, as well for the staff. "I want to get them to think bigger, dream bigger," he said.
A fitness coach and former pro basketball player, he is aware of the transformative effects that health and wellness can have on students' academic success and social-emotional growth. For that reason, he is collaborating with physical education staff on an initiative to introduce junior high students to fitness as a fun activity with lifelong benefits rather than just another requirement for graduation.
"Fitness can change everything. It can bring positive change to your relationships with other people," said Mr. Gadsden. "It can change how you start to goal set for yourself. Doesn't matter what your age is, even adults can start to dream again, set goals for themselves."
Mr. Gadsden also has been tapped to serve on the district's new diversity committee where he will work with committee members to monitor school climate and national trends relevant to diversity. "We will identify and discuss issues that are a concern to teachers and staff in the building and work together on meaningful and long-term solutions," he said.
Staff and parents may reach out to Mr. Gadsden through email at: agadsden@vlietschools.org
The family outreach coordinator position aligns with district goals for its Extended School Day/Violence Prevention (ExTRA) grant through which the position is funded.