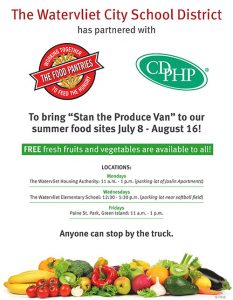 In an effort to further encourage healthy eating for our students and families, the Watervliet City School District has partnered with the Food Pantries for the Capital District and CDPHP to bring a free produce truck to three of our busiest summer lunch programs.
Parents, students and community members will have access to free fresh fruits and vegetables once a week beginning July 8 through August 16.
Stop by the produce van at the locations and times listed below and help yourselves to a variety of fresh fruits and veggies to take home!
Locations:
Mondays – Watervliet Housing Authority from 11 a.m.-1 p.m. Joslin Apartments parking lot 
Wednesdays – Watervliet Elementary School from 12:30-1:30 p.m. parking lot near softball field
Fridays – Paine St. Park, Green Island from 11 a.m.-1 p.m.