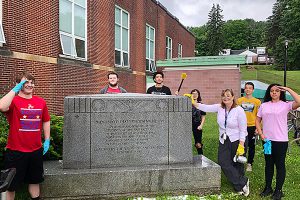 To commemorate the 75th anniversary of D-Day, and honor the sacrifices of World War II veterans, high school students in Mrs. Helenek's class cleaned the memorial in front of Watervliet Jr.-Sr. High School early on June 6, 2019.
Mixing Dawn dish detergent and water, and  using a soft brush, the students scrubbed away the algae and made the granite memorial look as good as new!    
D-Day marked an important milestone during World War II. On June 6, 1944, Allied forces invaded northern France by means of beach landings in Normandy. It was this invasion that allowed the Allies to finally defeat Germany.