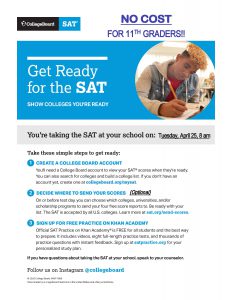 Attention 11th grade students – mark your calendars for SAT Day on Tuesday, April 25, at 8 a.m. High school juniors will have an opportunity to take the SAT during the regular school day at WJSHS. This is provided at no cost to students, and they do not need to register. 
This test is an important step for any student thinking about attending college. The SAT is accepted at all U.S. colleges; it measures what students are learning in high school and what they need to know to succeed in college and career. By offering the SAT in school, we can ensure that all of our students have access to this important stepping-stone to higher education.
Get Ready for the SAT
Students in 11th grade will have an opportunity to take the SAT at no cost on Tuesday, April 25 at 8 a.m.
Below are a few simple steps to get ready:
CREATE A COLLEGE BOARD ACCOUNT
You'll need a College Board account to view your SAT® scores when they're ready. You can also search for colleges and build a college list. If you don't have an account yet, create one at collegeboard.org/mysat.
DECIDE WHERE TO SEND YOUR SCORES (Optional)
On or before test day, you can choose which colleges, universities, and/or scholarship programs to send your four free score reports to. Be ready with your list. The SAT is accepted by all U.S. colleges. Learn more at sat.org/send-scores.
SIGN UP FOR FREE PRACTICE ON KHAN ACADEMY
Official SAT Practice on Khan Academy® is FREE for all students and the best way to prepare. It includes videos, eight full-length practice tests, and thousands of practice questions with instant feedback. Sign up at satpractice.org for your personalized study plan.
If you have questions about taking the SAT, please reach out to your counselor.