Watervliet High School students are excelling in foreign language and by the time they are seniors, many are taking Spanish 4, a college-level course taught by Rebecca Sweeney.
Upon successful completion of Spanish 4, students earn three (3) college credits through Hudson Valley Community College (HVCC) and many fulfill their foreign language requirement for college before they even step foot on campus.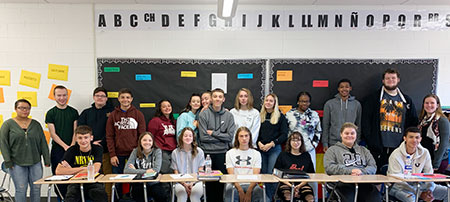 How does Spanish 4 differ from a regular high school course?
"The level four course is an amazing opportunity for our students to experience what a college course is really like. There is much more required of the students and they need to know how they learn best and how to study to be successful," said Mrs. Sweeney, who has been teaching the course since 2015. "Much more Spanish is spoken in class, so the students truly begin to realize how much they have learned in the six years they have been taking the language. We also cover more of the culture in level 4 since the course is technically titled 'Communication and Culture.' We learn about music, dance, art, government, and much more." 
Spanish 4 was first made available to WHS students in 2015, and 17 students took the course at the time. Today, there are 25 students in the course, which is almost 30% of the senior class. Mrs. Sweeney attributes its popularity to students who have taken the course and promoted it to younger students.
"I would definitely encourage younger students to take Spanish 4," said Molly Sheldon, a senior and Spanish 4 student. "Not only is it great for practicing for life after high school, but it also allows you to save money by taking it in high school instead of paying in full for it in college."
The cost of HVCC courses at WHS is $60 per credit hour ($180 for a 3-credit course). Many students qualify for a scholarship and end up taking the HVCC course free of charge, which is reason enough for students to take as many HVCC courses as possible during their high school experience.
When asked what they've liked the most about studying Spanish at WJSHS, Spanish 4 students shared many different answers. Some liked to be able to speak another language to peers and teachers, while others felt that Spanish would be useful to them in the future. Still others said their Spanish classes have been fun, and have allowed them to learn in creative ways. Almost all students cited their teachers – Mrs. Meghan Fronczek and Mrs. Sweeney – in one way or another.
"When I am in either Spanish classroom, I feel differently. Both Mrs. Fronczek and Mrs. Sweeney take their job to the next level. They care about you and want you to be successful," said Noah Heffernan, a senior and Spanish 4 student. "They are both brilliant teachers who deserve their positions and should proud of themselves to be a teacher."
Mrs. Fronczek has been teaching grades 7-9 Spanish at WJSHS since 2007, and Mrs. Sweeney joined the Spanish program in 2013. Together, they've created a strong Spanish program where students are flourishing, succeeding and preparing themselves for life after high school.